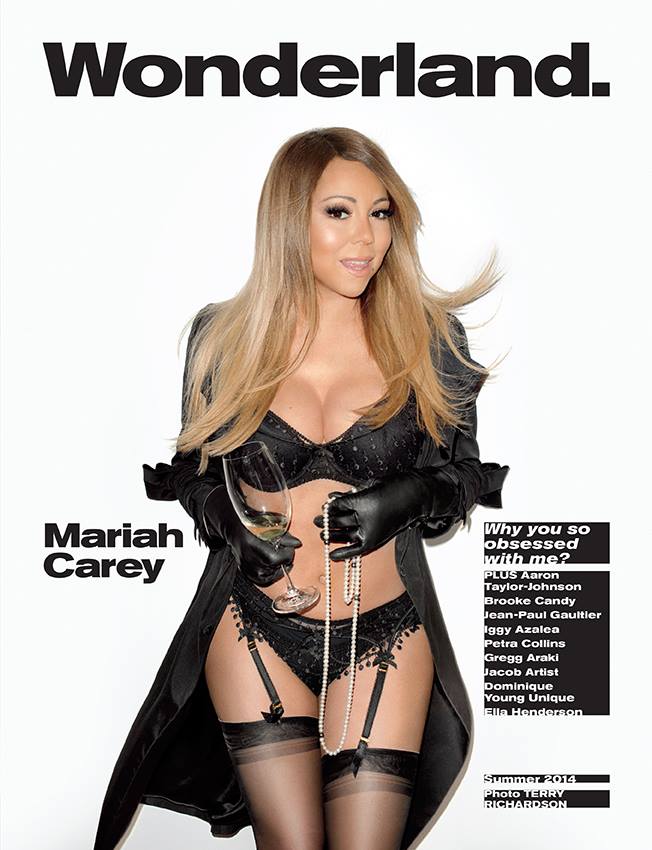 Are you "Obsessed" with Mariah Carey? If you answered yes, then you are going to be extremely excited to know your girl is back!
The 44 year old is not only on the cover of U.K.'s Wonderland Magazine but she has also released her new album after a five year stretch.
On May 2nd,the newsummer 2014 issue was released featuring the mother of two showcasing her assents with nothing more than a black lace bra, knickers and suspender set by Agent Provocateur, black silk jacket by Roberto Cavalli, black leather gloves and pearls.
Who were the artists behind the spicy shoot?
The one and only photographer, Terry Richardson, who is known for his controversial and provocative images was responsible for this sexy shoot. He was partnered with Fashion Editor Matthew Josephs.
Many fans love the sexy look on Mariah, but others think that she is reaching for sales. No matter what the excitement is all about, Mariah seems to be catching the spotlight with her newly released album "Me. I Am Mariah… The Elusive Chanteuse." This album features her single "You're Mine (Eternal)," which has already reached the top of the Billboard Dance Club songs chart.
Wonderland Magazine seemed to be extremely excited to debut the cover with the "Shake it Off" singer. They surprised their Twitter followers when they posted the above image along with the caption:  "It's official! our Summer issue is here! Gracing the cover is the iconic @MariahCarey shot by @Terry_World #OBSESSED"
Mariah seemed to be equally excited posting: "Excited to be on the cover of @wonderlandmag, out this Friday in the UK and worldwide next week!" to her fans on Tuesday.
What do you think of the magazine cover? Do you think that Mariah will make a much needed comeback?
(Visited 629 times, 1 visits today)