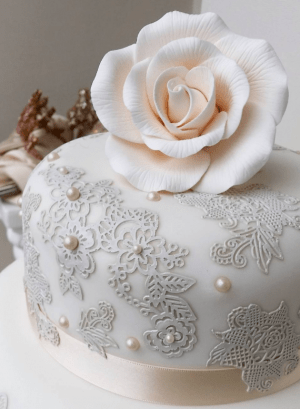 Are you getting married in the near future? Then this blog post is perfect for you because we will show you a huge selection of pearl wedding cakes that will amaze you! Wedding plans are not complete if you haven't decided what kind of wedding cake you're going to have! Or maybe you're a cake enthusiast, constantly looking for new ideas and inspiration? Keep reading because today's post is truly special!
First of all, we would like to thank all the wonderful cake artists who gave us permission to use their photos in our article. We like to call them cake artists because their cake designs are a real work of art. Each and every one invested a lot of hard work and endured sleepless nights in order to reach that level of perfection. They are like magicians who majestically use and blend all kinds of fine ingredients in order to make that wedding cake that's able to express what the heart feels: love, gratitude, joy, happiness. Each of them has the special gift of anticipating what we want.
We thought of creating different sections of pearl wedding cakes, but because we did not want to send you from one place to another, we decided to present each bakery separately and alphabetically. You'll find 18 bakeries, with a unique and distinctive style, and with owners who give their cakes a personality! So, enjoy these wedding cakes with pearl decorations that are absolutely dazzling masterpieces.
Angelic Desserts by Zoya Imtiaz
Every wedding has an engagement party before, right? Coincidence or not, the selection of pearl wedding cakes starts with some cute pearl wedding cupcakes!  Zoya Imtiaz is a very young, yet so gifted baker! Her pearly decorated cupcakes are perfect for your engagement celebration, but they can also be served at the wedding party. You can also check her work on Facebook!
Cake Couture by Susan McEvoy
Susan McEvoy is an extremely gifted and talented cake artist who provides artisan cakes and  private tuition. Based in Yorkshire, United Kingdom, Cake Couture creates fabulous pearl wedding cakes that will simply mesmerize you! Just take a look at these and convince yourself. Every piece of cake is like an invitation to take part in a fairy tale! If you're interested to see more cake designs, they are also present on Facebook. And they are also working on some sugarcraft tutorials, in case you want to learn some tips!
Cherub Couture Cakes
Run by Anne-Marie, this bakery is dedicated to create true pieces of art. Delightful and glamorous, every cake has an emotion. Only by looking at these pearl decorated wedding cakes you'll notice their passion for pearls! And if you want to see more cake designs, just go on their website.
Cotton & Crumbs
Run by cake designer Tracy James, Cotton & Crumbs have been specialising in creating beautiful bespoke cakes since 2010. They create beautiful, elegant and stylish wedding cakes that will make your celebration memorable. You can also check their website portfolio. We absolutely adore how they use ropes of pearls as decorations on their cakes!
Edible Art Bakery
Edible Art Bakery & Dessert Cafe grew from the old Southern pound cake recipes of eastern North Carolina native Judy Lasater. With 35 years of tradition, you can be sure that you'll receive the wedding cake that you dream of. Just look at these wedding cake designs with amazing pearl details or simply check their website.
The Sweet Tooth Bakery
Based in Newcastle area,  The Sweet Tooth Bakery provides bespoke handmade cake service. Looking at these pearl wedding cakes, it's clear that Foz has a passion for baking and cake decorating. You can also find the bakery on Facebook!
Georgia's Cakes
If you look at Georgia's Instagram feed or website gallery, you'll see that she has taken the concept of cakes to a whole new level. She individually designs and hand crafts each cake, making every creation truly unique and dazzling. Because we wanted to keep the pearl theme, we selected this croquembouche, perfect for an alternative wedding centre piece. Oh, and remember our Instagram post with oyster macaroons? That's her work too!
The Graceful Baker
The Graceful Baker is owned by Grace Harvell, a talented cake artist who want to help your visions become a reality. For Grace, designing and creating a cake to fulfill your dreams is essential so she focuses a lot on your needs. We love how she gracefully adds pearl decorations on the wedding cakes! You can also visit her web gallery.
Lea's Cooking
Lea enjoys cooking, baking and cake decorating.  She love to make custom decorations for cakes. Her creativity is present in every piece of cake. Notice the pearls and shells? Also, for those of you who want to experiment, Lea is sharing recipes on her blog!
Maria's Cakes Kilkenny
Maria's Cakes Kilkenny is a run by Maria and Adrian, a husband and wife team and they take pride in their wedding cake designs. That's just lovely! It's clear that they have an eye for details: the pearl decorations are absolutely amazing! You can also check their website.
 Patricia's Cake Creations
Located in Toronto, Ontario,Patricia's Cake Creations is a family owned French styled patisserie cafe and it started as a mission to create an anniversary cake turning into a cake empire! As you may have guessed, Patricia is the cake designer and every cake has a story to tell! Pearls are beautifully incorporated and they look so delicate. Want to see more wedding cake designs? Take a look at their website too!
Piece of Cake by Halima
Piece of Cake by Halima provides exquisite, sophisticated and fashionable hand crafted wedding cakes. Just take a look at those selected by us or those from her website.  The pearl decorations are so elegant! We might also add that Halima creates pieces of heaven too.
SJ Cake Studio
Run by Sarah and Josh,  this bakery can amaze you in a second! You can clearly see the pearl details on cakes, and the whole design is absolutely lovely on each and every cake! You can also find SJ Cake Studion on Facebook.
Sugar Couture Ltd
Based in Altrincham, Cheshire, Sugar Couture Ltd is one of the North West leading bespoke wedding and celebration cake designers. Their pearl cake decorations are so delicate and fine, plus they are made with sugary love! We found so many pearl wedding cakes, but they are not all! You can find more on their website.
Tart Bites
At Tart Bites, each cake has a story to tell. n! Plus, you can even create your own flavor line. From multi-tiered, custom wedding cakes, to elaborate recreations of themes or memorabilia, their cakes are stunning and express a lot of passion! We especially selected those below because we love how they decorated the cakes with pearls! You can see more cakes on their website.
The Pretty Cake Company
Samantha Tempest is the owner of this wonderful cake shop. She is a bespoke wedding cake designer who really goes the extra mile to make sure you get a memorable cake. We absolutely love how she incorporates pearl decorations on wedding cakes! You can also browse through her designs on her website.
The Pretty Sugar Cake Company
Run by the cake  artisan Nicola Nicholls, The Pretty Sugar Company creates beautiful cakes for your happiest days. Remember how Coco Chanel used to say that "a woman needs ropes and ropes of pearls" ? Well…according to Nicola, a wedding cake needs ropes and ropes of pearls! For more cake designs, check her website gallery too.
Zoë Clark Cakes
Zoë Clark is a cake design and pastry enthusiast and a proud mum of 3 beautiful kids. Her pearl cake decorations are simply stunning! If you look at her cake designs, you'll notice that she has a unique and elegant style, which is often inspired by beautiful fabric and art. Her talent made her publish several books and determined her to organise online classes and workshops. If you want to see more wedding cakes, you can visit her website.
We buy cakes to celebrate someone or something that brings joy into our life. When is come's to weddings there's something extra special about them, because we celebrate love, faith, a new beginning. All in all, we hope you enjoyed our selection of pearl wedding cakes. If you have a favorite one, please feel free to mention it! We admire all the work and passion displayed by these talented bakers. We sometimes think that a cake artisan has an impossible mission: to provide the perfect wedding cake that will envisage all you desired. But a true cake artist never fails to bring to life what you always imagined and wished for. If you feel the chemistry and your gut tells you that you met the person who will help you have a memorable night and taste, then go for it!
As a side note, we're also planning to create a blog post about other types of cakes and desserts that are decorated with pearls. We saw so many beautiful cake designs, that we really have to show them to you as well!
(Visited 596 times, 1 visits today)