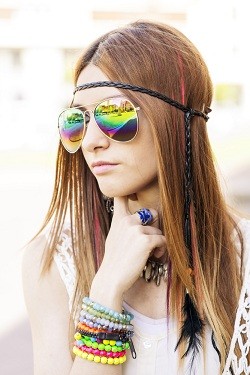 What can be more beautiful and important for a young girl than receiving a piece of designer pearl accessories for her sweet sixteen, high-school graduation or college admittance? Pearls are indeed a woman's best friend and teenage years are the perfect time for them to begin learning and appreciating the beauty of pearl jewelry. However, in our modern times, mothers don't simply offer their little girls their wedding pearls or their grandmother's pearl bracelet. While pearls will never be obsolete, young, sassy and smart little ladies of our time need something truly special.
From this point of view, designer pearl accessories make the most optimal choice – if well selected. Without looking too flashy or too serious, some designer pearl accessories for teenage girls contain the essence of what it means to be young, free-spirited and modern. With fancy but whimsical montages, such pearl jewelry pieces may represent the perfect beginning for adult women to teach their daughters about the wonders of pearls. The taste for these incredible gems needs to be nurtured. Today we will look at five designer pearl accessories for young ladies to see how and when they can wear them.
1. The Hearts Charm Pearl Bracelet
Fun, flirty and cute, without looking too glamorous, a hearts charm pearl bracelet in Freshwater white 6 – 7 mm pearls, shell stones and silver hearts is a perfect gift for a birthday or a high-school graduation celebration. The drop shaped pearls add value and elegant flair to the playful dangling hearts. If your teenage daughter is fashion-savvy and is developing her own personal style, than this bracelet can represent the stepping stone of her future cultivation of taste. She will definitely stand out of the crowd but she won't draw attention in the wrong way. On the contrary, the cute pearl bracelet will only add to her youthful and laid back spirit and attitude.
How to Wear this Designer Pearl Accessories Piece?
A teenage girl can wear this hearts charm bracelet as a standalone jewelry piece with casual and street-smart outfits, or she can stack the bracelet with other chain bracelets and shell stone ones for a dazzling hip effect.
The bracelet makes also a long-term companion to a more formal outfit such as a cute dress she wears for family parties, celebrations or parties with her friends.
2. The White Ribbon Drop Pearl Necklace
This designer white ribbon pearl necklace can be worn by women of any age, as we have previously shown, but this ribbon drop pearl necklace is perfect for young women coming of full age or getting admitted to college. This playful and young-at-heart necklace makes a perfect addition to any young woman's wardrobe as it matches any style and outfits. The necklace is made of 5 – 6 mm Freshwater white pearls racing along the thin shimmering white ribbon in a classic, elegant design standing out in a playful manner. The elongated drop pearls subtly shine around a girl's neck making her look like a princess.
How to Wear this Designer Pearl Accessories Piece?
A young woman can wear this beautiful and refined necklace with casual clothes, or even formal clothes for parties or formal events.
The white ribbon pearl necklace matches any clothes no matter their color or pattern, as the shimmering white completes and compliments all outfits.
3. The Black Pearl Pendant with Cubic Zirconia Hook
Some young women prefer more demure designer pearl accessories that match any outfit and any occasions. For a first pearl jewelry piece, the black pearl pendant in sterling silver and cubic zirconia accented hook is a perfect choice. Stylish, subtle and incredibly feminine, the pendant features an AAAA 7 – 8 mm Freshwater black pearl. While too elegant for a fourteen year old, the pendant can make a gorgeous gift for young women graduating high-school or celebrating their admittance to college. Of course, it makes an incredible gift for coming of age celebrations as well. It will be a highly revered jewelry piece and an important first step in a woman's cultivation of taste for pearls.
How to Wear this Designer Pearl Accessories Piece?
Just like white pearls accessories, black pearl jewelry matches any age, style and choice of outfits. While considered more formal and elegant, black pearls can style up casual clothes as well.
The pendant can be worn as a single jewelry with casual clothes or it can be highlighted with the help of a little black dress or a formal suit for young women wanting to make an outstanding first impression.
4. The Large Pink Pearl Earrings
This particular set of pink Freshwater pearl earrings stands out by the rare and impressive size of the pearls (9 – 10 mm) designed in a sterling silver montage. They won't go unnoticed and they will make any teenager or young woman look stylish and composed without overwhelming her outfits. As we all know, pink pearls are mostly dedicated to young at heart, fun, flirty and playful women. The eerie shade of pink warms up skin tones and adds a subtle dash of femininity to any outfit. Given their size and their quality, these pearls are exquisite and luxurious, making a perfect gift for a very important celebration.
How to Wear this Designer Pearl Accessories Piece?
The pink pearl earrings set can be worn by those stylish young women who prefer a more bohemian and laid back approach to life, becoming the must-have accessories for boho chic dresses, summer dresses or casual street outfits.
They can also make a girl turn heads if worn as statement pieces accompanying a formal dress or a casual suit.
5. The Multicolored Pearl Necklace
One of the most important lessons a young woman should learn about pearls is how to match them to their skin tone and outfits. More importantly, she always should know ho to style up and down an outfit with the help of her pearl jewelry. This particular multicolored pearl necklace solves plenty of these problems, introducing a young lady in the world of pearls and giving her the opportunity to further choose her pearl wearing style. The necklace is classy and elegant and mixes white, black and lavender pearls to match all styles and outfits.
How to Wear this Designer Pearl Accessories Piece?
All young girls wearing this gorgeous necklace will stand out of the crowd in a natural and sophisticated way without being too flashy. It gives endless opportunities to young ladies to mix and match all possible outfits, colors and patterns.
The necklace mixes different sparkles, textures, colors and sizes making it easy for all teenage girls and young ladies to wear street-smart, casual and formal clothes no matter the occasion.
What designer pearl accessories would you gift to your teenage daughter? How would you introduce your teenage girl into the world of pearls?
Image sources: 1, 2, 3, 4, 5, 6
(Visited 694 times, 1 visits today)