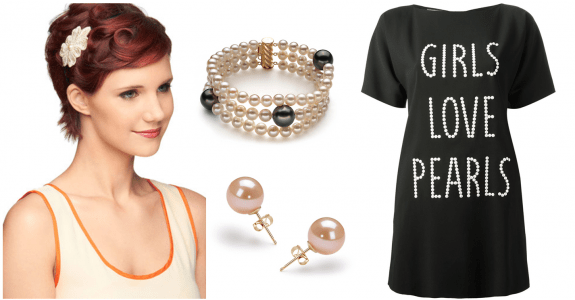 We can barely contain our excitement for the upcoming summer months! The great days of summer are getting closer and during the spring is the perfect time to begin shedding bulky winter threads and replacing them with fun, breezy and incredibly chic clothing. When a new season comes, the annual renewal of trends (the old and once forgotten) begins.
What comes along with filling your closet with exciting new trends? Matching those trends with accessories that enhance your look from fabulous to overly sensational! At Pearls Only, we are ecstatic to find all of the many ways you can add pearls to your wardrobe.
Whether it's a new handbag or a pair of new sunglasses, pearls are no longer just for your grandmother's enjoyment. The classic water gems have found their way out of your grandma's jewelry box and in the mainstream world of fashion, and we have a feeling that they will never go out of style.
In light of this growing trend we brought together some chic ways to wear your pearls! Without further ado, here are 10 great ways to wear pearls this summer:
Bags
Bags are the way to go for those who are looking to make pearls a fun statement with everyday use. We have found bags fully engulfed with pearls which are perfect for special occasions. Have a look at this beautiful TEVOLIO™ Pearl Clutch – Ivory with pearl detailing.
Bracelets
We love to upgrade the look of regular pearl bracelets. You can now make your favorite go-to bracelet one with dashing pearls. We adore this pretty chic pearl bracelet at Pearls Only that breaks up the traditional look of a pearl bracelet and brings it to the 21st century.
Earrings
We love Iggy Azalea but she isn't the only girl that's fancy. You can be just as fancy with earrings that look like class. Pearl earrings are amazing for the summer months especially when attending a garden party or just take a casually stroll on the boardwalk. These pearl earrings are a great example of chic and fun style with sophistication. Here are some awesome earrings at Pearls Only.
Glasses
Being camera ready is as easy as putting on a pair of glasses bedazzled with pretty pearls. Whether you make your own using your favorite frames while adding pearls décor or if you buy them at a store, pearl glasses will not disappoint. We really like this trend with cat-eye glasses because they really bring the true Hollywood style to life like these DIY Pearl Glasses taught by Liakw.com (@liakw).
Hair Accessories
You will have a heads up on this trend with pearl hair accessories. What we like especially about hair accessories with pearl décor is that you can find them at almost every price point and a great range of style like The Pearl I Love Headband.
Our Pearl Secret: Whether you're painting the town red or having a meeting with clients, pearl hair accessories are a glamorous pick-me-up for messy hair days.
Necklaces
A classic staple with a brand new twist! Pearl necklaces have always been a jewelry staple, but now with great jewelry designers, you no longer have to just settle for the basic strand of pearls. Pearl necklaces can now be found with other precious gems including rubies, emeralds, turquoise and even diamonds. Not to mention, there seems to be thousands of different settings and metal designs to choose from! Here is a gorgeous Kylie Pendant from Pearls Only that features a chic gold necklace.
Pants
It's so unexpected but so very fashionable! We think that pearl pants are an interesting way to make the summer streets your runway. Made completely popular by the Pearlnista and fashion icon, Rihanna, pearl pants have become an unexpected way to wear pearls. We found a pair Pearl Front Denim Boyfriend Jeans and we cannot get enough!
Rings
Pearl rings have changed a lot over the years and the improvements are dynamic. Pearl rings are delicate and sophisticated for every style of woman. We have rediscovered the amazing attention that comes with a stunning pearl ring. A pearl ring can is not only a great accessory for you to have, but it is also a great gift. This Dana Ring by Pearls Only is a great piece to give with to the special woman in your life for Mother's Day.
Shirts
Pearls added to the graphics or embedded in the textile art is absolutely awesome! Peal shirts are a big specialty item on the market, especially for the Summer/Spring months. We have been keeping our eye out for chic pearly looks and we find this Moschino 'Girls Love Pearls' t-shirt is the way to go for this summer.
Shoes
Pearls are now available from head to toe! We were not surprised to see that pearls have made their way to the feet and we have to say we are in no way upset with the trendiness of it all. From high pumps to comfortable flats, pearls are taking over the summery shoe look! We like these Betsey Johnson Pearl sandals because they are precious just like the gem they are embellished with.
What are your thoughts on the developing pearl trend for this summer? What pearls items will you wear?
We love to hear from you! Did we miss a great way to wear pearls this summer? Let us know in the comments!
(Visited 494 times, 1 visits today)