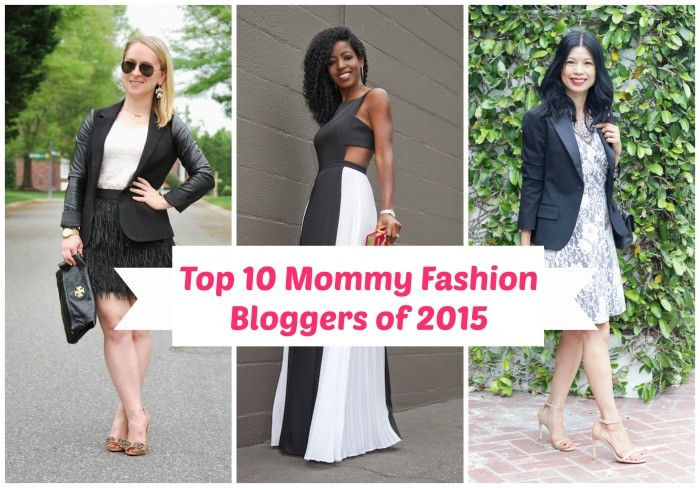 As Mother's Day is quickly approaching we at Pearls Only want to honor the many Mommy Fashion Bloggers that inspire women to be fashionable and fun moms. Whether they are offering fashion advice or business motivational words of wisdom, these fashionistas have helped make the world more beautiful. Check out our picks for the Top 10 Mommy Fashion Bloggers and why they are so amazing.

Janise is a fascinating woman and a fashionable mom of two handsome twin boys. After a failed marriage and a recession that wiped her clean she was blessed with a second chance at love and life. She is married to her supportive Italian husband and they live a very blissful life in love and fashion. Learn more about this stylish mom at www.mamainheels.com.
Little Miss Mama is a fun and adorable shopper that hates to get her MasterCard bill. Since 2010, she has been filling us in on her fashion and family experiences. We love her theory about accessories: "If we're all going to shop at the same stores, and follow the same seasonal trends, then we are all going to need a little style to stand out the crowd." See what she bought today at www.littlemissmama.com
Currently residing in Philly (and a true Philly girl at heart), Shana Draugelis, created The Mom Edit as a lifestyle blog to showcase her life as a fashionable mom of two boys and her husband, Mike. Not only does she kill all stereo types of how a moon should dress she has fought the battle of cancer and is still winning. See what she is doing in Philly at www.themomedit.com
Mimi Styles
Mimi G is a wife, mother, consultant and stylist, and one heck of a "home chef". She donates clothing, shoes and accessories to young women at church and shelters, attends "meet and greets" across the US to show her appreciation to fans for their dedicated support, and has amassed an impressive following offline as well as on. Her most recent and exciting project was the release of her sewing pattern collection for Simplicity, with whom she has now created an ongoing partnership. Mimi G resides in Omaha Nebraska with her husband and children. See her amazing fashion collection at www.mimigstyle.com
Making a huge impact on fashion since the inception of her style blog, Style Pantry, Folake Kuye Huntoon has wowed fashionistas with her colorful since of style and her wild and very huge hair. The Style Pantry is a network that features interviews on industry folks, street style, lookbooks, campaigns and haute finds. The stylish mom regularly updates her daily looks, sharing tips and secrets on where/how to shop bargains and vintage treasures. www.stylepantry.com
María José, a bilingual, Chilean mamá living in the Washington, D.C. / Northern Virginia area. She is not only a PR & Social Media gal by profession; she is also a really stylish girl! Her blog, Very Busy Mama Blog focuses on all things fashion, personal style, and beauty with a humorous and realistic approach to these and of course, motherhood. She has a very funny and sweet six year old boy and an extremely demanding and ever-so-cute 2 year old girl, which makes her one really busy mama! See her looks at www.verybusymamablog.com
Since 2010, Babblings of a Mommy has been not only been an outlet for Jenny who is a wife and mother, it has also become the place to be for fashion enthusiast who appreciate the styles of a full-sized woman. Currently residing in upstate New York with her family, she has been lucky enough to be chosen as a nominee for both Circle of Moms-Top 25 Moms in Style, and Parents.com Best Mom Fashion Blog for 2011-2103. Most recently she is a weekly contributing writer for SonsiLiving.com. There is no denying that she should be followed. www.babblingsofamommy.com
Valentines Girl
When it comes to girl power, Casey wears the cape just like a superwoman should—fashionable! Born on Valentine's Day, Casey loves pretty much everything. From sharing her savvy knowledge of business, to dressing for success while still making heads turn, Casey gains her strength from empowering others and helping young women to gain the same success that she has as business woman. She has developed Valentines Girl in hopes of sharing advice to young girls and women, who may struggle with their confidence or sense of style at the office or wherever she maybe. There is nothing that she won't do for her sisters in need! When Casey is not offering business advice and sharing her love for fashion, she is traveling the world with her loving husband Bill and being a devoted mother and stepmother to her amazing children. Get your business and fashion focus at www.valentinesgirl.com
Chelsea is a self-professed sequins hoarder who loves to spend time with her husband and son. When she is not reading books and indulging in science experiments, she is day dreaming about heels and the latest beauty products, she is reading plenty of books especially, #girlboss. Enjoy her space on the internet at www.hautechildinthecity.com
Joanna is one jazzy mama that has a lot on her plate. She is an actor, tv host, photographer, blogger, kick ass, martial artist in Toronto, Canada. She owns lots of denim and swords, and she not afraid to be a little cutesy. Her overall goal with her blog is to show that you can be a mama, an artist, and still be a *somewhat* fashionable woman. Let's see how it goes at www.modamamablog.com
We hope that each and every mom has a wonderful holiday and many more to come!
(Visited 536 times, 1 visits today)