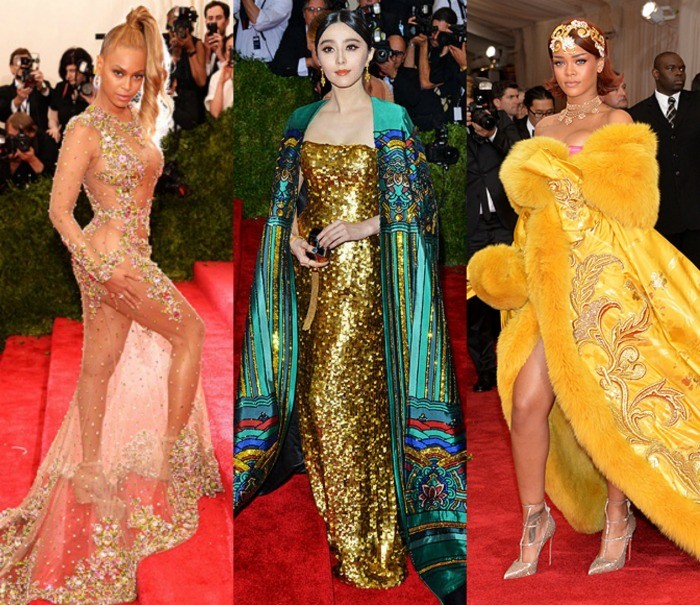 The 2015 Met Gala was a star-studded event with lots of glitz and glamour as always, but this was one our favorites. With so many looks to choose from it was quite difficult to do our yearly Best Dressed list for the year.
Although many did not hit the mark on this year theme which was "China: Through the Looking Glass", there were many great looks to choose from that were on point.
"I love that some people got it and some people didn't," Jay- Z's stylist, June Ambrose, told Pagesix.com this week. There were several dresses that made is feel like we had just received access into an emperor's abode where he held a festive event that was meant for only the elite. It was phenomenal. There were also those that made us wonder how they received an invitation.
She continued on saying, "You know, they're musicians. Do they follow rules? Never. Listen, they were stage-savvy. A lot of people thought they weren't right for that particular venue. But when you have a killer body like those ladies have — and again, they're musicians, they're artists, they're not models — they're gonna take things out of context. You don't really give them rules." And, "I thought they all looked incredible."
There were plenty of sheer moments which we believe was to reflect the "looking glass." Beyonce gave us a lot of her assets; Jennifer Lopez wore nothing but a dragon; and Kim Kardashian West looked like a beautiful swan that make have been molting. While the dresses were gorgeous, they were also very easy creatively. It was the dresses that took us to the Orient and made us feel like we were in land of red and gold that made us feel excited about the art of fashion.
We managed to narrow it down to our 10 Best Dresses at the Met Gala 2015, and we are interested in knowing what you think.
Without further ado, check out our 10 Best Dressed at the Met Gala 2015 "China: Through the Looking Glass" in no particular order:
Beyoncé
Beyoncé the "Get Me Bodied" singer was photo-shoot ready as she gave the photographers modelesque style while wearing a beautiful sheer Givenchy Haute Couture dress accessorized with Lorraine Schwartz jewels. Although not Chinese inspired, the sheer dress what very complimenting to her style as it achieved the FLAWLESS looking glass flair.
Jennifer Lopez
Jennifer Lopez looked like a princess dragon slayer in a sheer ombre dress by Atelier Versace that was artistry. It was adorned with loads of sequin to create a dragon design on her torso. The look was amazing because it not only fits her style, but the dragon is a very important piece to Chinese culture as well as the color red making it statement dress for the evening.
Lady Gaga
Lady Gaga truly embodied the evening of China inspired art with an empress inspired ball gown by Balenciaga that was carefully designed with 14,000 sheared feathers and hand-embroidered black rhinestones. This look was very bold and complimenting to the out-of-the-box star making it a best dressed look.
Olivia Munn
Although on the simpler side of dresses, Olivia Munn looked gorgeous in her ombre hand painted, couture dress by J. Mendel. The the colors of the dress was alluring and very appropriate in the Chinese culture as she looked like a glamorous flag. We also appreciated the classy approach to sexy with chic cutouts and the fashionable halter design.
Sofia Vergara
Sofia Vergara never seems to disappoint when she puts a gown on. Her custom rose-gold dress by Marchesa was wonderfully refreshing to see as it was much brighter than the other best dressed looks. We even adore the sweetheart neckline and the beading which is completely gorgeous!
Maggie Q
Maggie Q gave us a unique twist to the gown filled Gala by wearing a custom Tory Burch tunic with matching pants. What we appreciate about this look is that it is just as fancy as a gown without all the fuss. The tunic was filled with crystal embellishments making it red carpet ready and stylish enough to wear to other fancy events.
Sarah Jessica Parker
Sarah Jessica Parker is not one who is afraid to stand out and she did just that with this black one shoulder dress with cape and artistic designed sash. Although the dress was chic, what really caught our attention with the astonishing Phillip Treacy oversized headpiece with tassels, flames, and lots of attention grabbing grace. This look was very on trend with the night's Chinese theme!

Karen Elson
Talking about getting into theme! Karen Elson looked astonishing in this traditional inspire gold and red gown featuring an off the shoulder gold studded corset with beautiful red tulle skit. We are happy to see the empress looking design of the gown with matching headdress. A great combination!
Fan Bingbing
Chinese actress, television producer and pop singer, Fan Bingbing, gave great honor to her culture when wearing a dynamic gold dress with glass effect cape! The gold and colors chosen in the dress created a perfect display of Chinese culture making it one of our favorites. Not to mention the hair and makeup… so on point!
Rihanna
Rihanna looked like a grand star in her yellow fur-trimmed Guo Pei robe that almost completely covered the met gala stairs making for a standout look. Beautifully colored robe was stunning and completely on point at the Chinese inspired event with beautiful fine embroidered details.
We hope that next year, the head fashion honcho, Anna Wintour, creates a theme as exciting as this so that the fashion elite can get into it and have fun.
Who did you think wore Met Gala fashion the best?
Photo Source: https://people.com/style/100-unforgettable-dresses-from-the-2015-met-gala/#30331533
(Visited 1,081 times, 1 visits today)