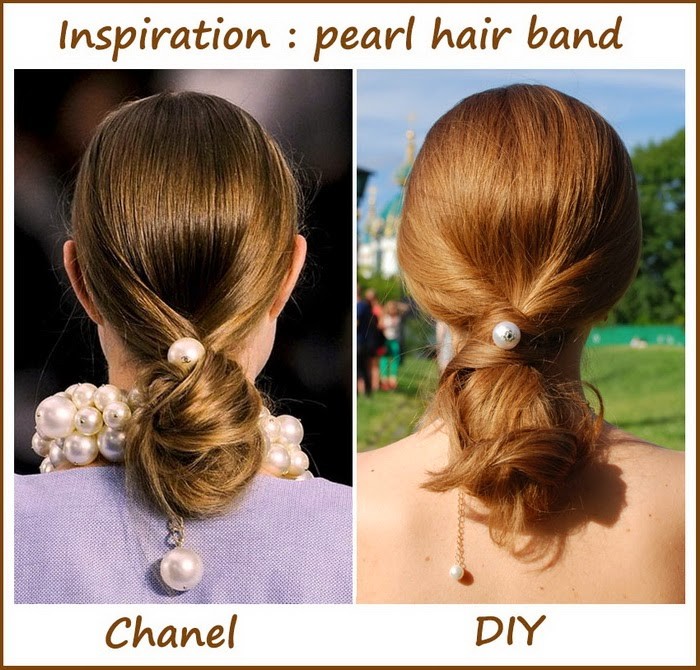 We really enjoy visiting the website of style blogger and DIY enthusiast, Iren P. of liakw.com because once again she has come up with an amazingly chic DIY featuring pearls—our favorite!
In this DIY she will show you step by step how to make your hair stand out with a cute Chanel inspired pearl hair band for your ponytail.
You may have seen this stylish hair accessory during Fashion Week at Chanel's fashion shows and now you can jazz up your average ponytail with a large pearl quick and easily on a budget.
Iren shared:
 "Girls, I wanted to share with you this simple hairstyle inspired by Chanel S/S 2014 collection that is so easy to repeat at home. Just a twisted ponytail with big pearl at the center and you will look stylish and beautiful… Find the tutorial below and hope you'll like it!"
What we love about this hair accessory is that it will make your ponytail fashion forward and it will look great every day and even at a formal event during the holiday season.
The task is incredibly simple and fun to make and the best part is all you will need is a hair band, a big pearl, a finishing stud, a bead cap, a little sparkle, super glue and round pliers.
To learn how to make your own, check it out here.
We also found that other than trendy looks, Iren also has other great DIY projects including DIY hair accessories, crop tops and much more, so be sure to check out her blog.
What do you think of the pearl trend? Is it still stylish? Would you wear during the holidays? Comment with your thoughts and opinions!
Photo Source: liakw.com
(Visited 848 times, 1 visits today)