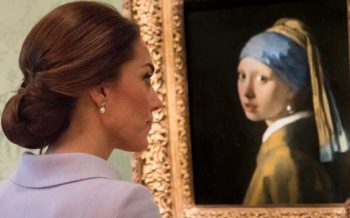 Hello, dear pearl lovers! I hope you enjoyed the first article in which we tried to show you that wearing pearls like a celebrity is not hard at all. We briefly covered five fashion icons who became famous especially during the 1950s, but their sense of style remained eternal. What they all taught us is, and please keep this is in mind, that pearls are always appropriate. Always!
In today's post we will cover four contemporary style icons who are true symbols of femininity, elegance, beauty. They are ravishing, unique, and each of them has a truly distinctive style. Being on the spot light, they always have to look flawless. Because they wear pearls, we just have to admit that flawlessness is achieved easier. Plus, they add that extra posh accent. If pearls are so affordable today, why not wearing them more often?
So here are four of the most stylish women who are wearing pearls with charm and finesse. Also, make sure to check the pieces that we suggested in order to recreate some of their outfits.
Kate Middleton 
The Duchess of Cambridge is a true example of refinement and natural elegance.  She wears everything with class and effortless grace and her appearances are always charming. Pearls became one of her trademarks and she incorporates them in her outfits on almost every occasion. Notice how she prefers pearl earrings? You can spot her wearing elegant clothing pieces  and pearl drop earrings very often. White pearls seem to be her favorites and they suit her very well. If you want to wear pearls like Kate, here is our suggestion.
She even wears pearls with casual, a bit sporty outfits, and still looks stunning. You can easily bring to light what seems to be a neutral make up by just wearing the right pair of pearl earrings. So, don't be afraid to dare!
2. Sarah Jessica Parker
You just say Sarah Jessica Parker and you think of all her gorgeous outfits from the famous TV series where she was the starring actor. Due to her appearances in Sex and the city, she became a true fashion icon, but what kept here there was her true life style.  On-screen she displayed an eccentrically cool sense of style, but it goes without saying that she looks amazing even when she's not on-screen.  She has a genuine sense of style and she is a true fan of pearl jewelry. In addition, you can notice that she prefers pearl necklaces. Loose or around the neck, she always knows how to pick them.
Sarah gives us multiple examples on how to wear a pearl necklace. You can even combine it with a black one or wear multiple pearl strands on your back if you're wearing a dress that allows this styling trick.
If you want to replicate one of her looks, pick this pearl necklace,  and you can wear it in at least two different ways. Another alternative would be to just pick multiple strands of pearls. Sarah is teaching us to improvise more and we just love how she makes pearl necklaces look so versatile, so follow her styling tips.
3. Angelina Jolie
Over the years, Angelina developed a great sense of style and she is a go-to source of inspiration when it comes to conservative and classic attires. It's obvious that Angelina looks absolutely stunning wearing basically the most simple, yet chic dresses. She clearly loves black and we can't blame her. Black looks good on every figure. Mixed it with white pearls and you have a timeless and truly elegant look. She loves to wear white pearl earrings and necklaces. Here is our suggestion for wearing pearls like Angelina: the Pearl Earring Pair in White. They are a true elegant adornment for a ladies ears.
The actress also likes to wear pearl necklaces. In white or black, they can give you the extra glam. Worn separately or in sets, this kind of pearl jewelry require little styling effort to go from day to night. If you're looking  for a triple strand pearl necklace, here is our option.
Black pearls bring a touch of mystery and sophistication and they can inspire you to create your own story. Therefore, try this pair of black pearl earrings and this black pearl necklace, and you'll be amazed how the classic formal wear can be easily worn at a business lunch or a romantic date.
4. Michelle Obama
Michelle Obama… always a fresh and magnificent presence! Often called the First Lady of Fashion, Michelle emanates harmony, natural beauty, and grace. First of all, she has a cultivated sense of style and she is not afraid to dare. Plus, her outfits are always impressive and flawless and you can easily see that she embraces pearls with style and charm. Moreover, for her, wearing pearls is a true act of femininity. She's showing us that the right pearl necklace can instantly transform a casual outfit into an elegant one without too much effort. You can create Michelle's look by wearing a black dress with bare arms, and a beautiful double strand white pearl necklace like the one we suggest.
White goes well with white, grey goes well with white … basically, everything goes great with white! So pick up a monochrome blouse or sweater, a white pearl necklace like this one and you'll feel empowered and ready to turn heads.
In conclusion, we hope we showed you some relevant celebrity-inspired pieces that can be worn well no matter what time of the day is. Also, keep in mind that pearls will always be your ally if chosen well. We like to think that they put the glam in glamorous and the chic in chicness! Tell us which celebrity is close to your sense of fashion and we'll make sure to cover her in detail in a future post!
(Visited 3,514 times, 1 visits today)