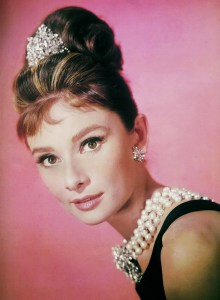 Pearls have always been highly prized and never seem to go out of fashion.  No longer are these gems something that your maiden aunt or grandmother would only wear.  Many celebrities wearing pearls have helped to give them a new lease of life. These days women of all ages enjoy wearing pearls. Discover who are out top celebrities who love pearls!
For thousands of years, women have worn pearls. During Roman times pearls were considered a prized item. Even Persian Princesses loved to wear them as well. If you have the opportunity to visit Paris then go to the Louvre. Here you will see a small piece of one of the oldest pearl necklaces in the world. It was discovered in the tomb of a young princess from Persia who died in 520BC.
However throughout the last 80 years or so there have a number of celebrities who have helped to show how beautiful pearls are. As a result of this women of all ages now have chosen to include these beautiful gemstones as accessories to many of their wonderful outfits.
But which celebrities have helped to make pearls favorite so popular once again? Below we take a look at some of the women who have helped to bring pearls back to where they belong, center stage in our lives.
TOP 11 CELEBRITIES WEARING PEARLS
Coco Chanel
Coco who was renowned for producing some of the most amazing outfits would rarely be seen out and about without having a string of pearls around her neck. From all celebrities wearing pearls presented here, she did, in fact, launch her first jewelry line back in 1932. Yet what you may not realize is that the pearls she actually wore were fakes. It was her mixing of the faux pearls with sparkling gemstones that really took the world by storm. So much so that women soon began to wear her jewelry not just for nights out but throughout the day.
Audrey Hepburn
We all have seen the image of one of Hollywood's most glamorous stars wearing a string of pearls with a little black dress from the film "Breakfast at Tiffany's". Yet this celebrity was also renowned for wearing pearls away from the camera. Most times she would be seen wearing some kind of beautiful pearl jewelry as an accessory to the outfit she was wearing. It was Audrey Hepburn who during the 1960's helped to bring pearls to the forefront of fashion.
Jackie Kennedy
The wife of the President of the USA reallyhelped to show just how wonderful pearls looked. Her styling and fashion sense inspired ageneration of women to try and replicate the look that she carried off withsuch ease. One quote springs to mindwhen talking about Jackie Kennedy is "pearls arealways appropriate". She hada way of being able to make chic modern fashions look sophisticated. She always wore pearls whether it was forstate dinners or when traveling abroad. The one item of jewelry that she loved to wear the most was a triplestrand pearl necklace that she had inherited from her mother. A great many women at this time tried toreplicate Jackie's look by teaming white pearls with outfits in bright boldcolours.
Sarah Jessica Parker
From all celebrities wearing pearls, as the star of Sex And The City, Sarah loved to use pearls in some of the most dramatic ways possible. Fans of this show really took to the look she chose where she wore piles of pearls along with a hot pink tank top. But this look she chose extends past her character and she is known for wearing pearls to some of the most glamorous and important events that celebrities such as her will attend. One particular outfit stands out is the Dolce & Gabbana gown she wore to the Cannes Film Festival along with layers of luscious pearls.
Michelle Obama
Yet another of the USA"s first ladies who during the last 10 years has helped to give pearls a new lease of life. She loves to wear them but with a more modern twist. Often she is seen wearing the pearls with her demure outfits such as her signature cardigan. She also loved to team a long string of pearls with those amazing fit-and-flare dresses she loved so much. But it isn't all about the necklaces with this First Lady, she loved to wear stacked bracelets or chunky pearl cuffs. But the most memorable piece of jewelry she has ever worn was pearl necklace designed by Tom Binns.
Scarlett Johansson
We cannot say for sure if the star of "Girl With A Pearl Earring" became enamored by these gems because of her role in the film. But what we do know now is that she really does love pearls. For her, it is about more than wearing pearl earrings or necklaces. She actually loves to wear clothes that have been adorned with these lustrous gems. One particular outfit that stands out is the exquisite pearl skirt she wore whilst in Russia doing a photo shoot for Russian Vogue magazine.
The great thing is that you have the opportunity to be able to replicate such a look these days. There are many outfits these days that have been adorned with pearls. You could have a go yourself at creating such outfits by applying pearls or gems on to them.
Rita Ora
Just like Michelle Obama, Rita Ora can be seen wearing pearls all the time. This British singer turned actress loves nothing better to wear all kinds of pearl jewelry from earrings to necklaces to bracelets.
She doesn't just love to wear them in the usual manner but loves to put them in her hair or on her outfits. One particular item she loves to wear regularly is a pair of pearl studded jeans. Again you have the opportunity to replicate such by taking a pair of your favourite jeans and applying some faux pearls to them.
Duchess Of Cambridge
From the moment Kate Middleton now the Duchess of Cambridge first came to our attention women of all ages were taking note of what she liked to wear. As the wife of the future King of England, she was careful about what she did and said. Now after the birth of her third child, she has definitely won the hearts of many of the people in the UK. Her elegance is undoubtedly refined, classic and timeless.
It is often that you don't see the Duchess ofCambridge not wearing pearls. In fact,they are her go-to gems when she really wants to add a touch of elegance to heroutfits. Most times she will be seenwearing a pair of verydainty stud pearl earrings. But sometimes she does love to make a statement and in Paris, she didthis by wearing a pair of big and bold pearl earrings.
Princess Diana
Throughout her short life, Princess Diana became a fashion icon wearing pearls for many women. She tended to keep things demure and could often be seen wearing a beautiful pair of stud pearl earrings.
However, upon her divorce from Prince Charles, she really decided to show the world who she really was. How can we ever forget that stunning black off the shoulder dress she chose to wear along with the amazing pearl choker. The pearl choker to which she decided to add a brooch she had inherited. This was her showing to the world I'm okay. Brave, extremely elegant and ravishing! She will definitely remain a living source of inspiration!
Katy Perry
From the moment Katy Perry came on to the music scene she has been creating some amazing fashion trends. She helped to bring the flapper girl look into the 21st Century. But rather than going down the usual route she wore a long slinky dress that was in fact nightwear. To give the outfit a more authentic 1920's look, she teamed the dress with a silver stone studded headband and matching shoes, and doubled up a long strand of pearls, plus a vibrant feather flapper clutch bag. Such a cool and bold choice!
Rihanna
This is one celebrity that has helped like so many others above to bring pearls back to center stage where they deserve to be. Rihanna is famous these days for choosing to wear multiple strands of pearls with a wide array of different outfits. But it was the pearls she wore to a Victoria's Secret Fashion Show that had everyone talking.
Just like Audrey Hepburn, she chose to wear a little black satin dress with a pair of black satin gloves. All of which helped to give her a more seductive look. But what really made this particular outfit so memorable was the pearl choker she chose to wear with a stunning pair of pearl sunglasses from Chanel.
For any woman these days it is possible to emulate celebrities such as the ones mentioned above who love to wear pearls. We at Pearlsonly.com have an amazing selection of different pieces of jewelry made using pearls. So finding something that looks similar to pieces worn by your favorite celebrity should prove at all difficult. We hope our list of celebrities wearing pearls will inspire you to make bold choices.
Just like any of these famous women you can be as demure or as bold as you like. Don't just stick to wearing white pearls, but wear some of the more dramatic ones such as the black or gold pearls that we have to offer. Also don't be afraid to team pearls with more casual outfits like Rita Ora, Rihanna and Katy Perry have done.
(Visited 2,902 times, 1 visits today)