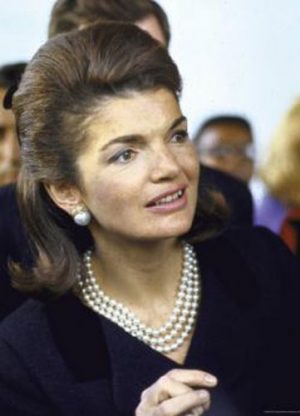 Jackie Kennedy's style inspired an entire generation of women in terms of fashion.  Since we admire her a lot and we are pretty sure all of you remember her unique style and elegance, we want to quickly show you how to dress like Jackie O.  We'll even show you how to wear pearls like she did. Therefore,  we picked 5 fashion tips to help you replicate Jackie's ways of clothing and accessorizing. Want to know how she managed to create her signature style? Keep reading to find out what characterizes her looks and how you can insert some really fashionable items into your wardrobe too.
5 Style Lessons from Jackie Kennedy
Her public appearances were always full of charisma and magnetism. There was allurement in her presence quite different from that of any other. A real style icon,  Jackie O. owned extremely simple, yet elegant trademarks. A symbol of the 1960s fashion, Jackie collaborated closely with fashion designer Oleg Cassini. As her influence grew, she started to develop a passion for Chanel jackets and A-line skirts by Dior. Her most famous signature piece is the triple strand pearl necklace and, obviously, this is our favorite one :).  As we go on, our photo gallery will try to capture Jackie Kennedy's style and charm.
1. Simple Two Piece
Clean and with simple cuts, the two piece skirt suit became emblematic for Jackie Kennedy. Throw in a pair of kitten heels and a mini-purse and you'll get a very refined look. The hat and gloves are out of fashion today, but the tailored clothes will always fit you best. Once her style became popular,  famous designers, like Gucci,  even named their line "Jackie" bags, so women can imitate her style easily.
She was bold enough to wear bare arms and shoulders, but the clothing cuts were conservative enough to remain classy. Jackie often opted for bright shades and colors that really made her stand out in the crowd.
2. 

Pearls, pearls, pearls

In terms on jewels, Jackie occasionally wore diamonds, but her all time favorite jewels were PEARLS.  "Pearls are always appropriate" she used to say and we totally agree with her. There's no such thing as a perfect time to wear pearls. You can wear pearls when you whenever you feel like it.

Known for her sophisticated sense of style, her love for high quality fabrics and fashion-forward attire, pearls were the ideal way to compliment her vibrant but chic fashion sense with a spark of charm and class.  By looking at these photos, it's obvious that she wore various types of pearls, but her signature mark was represented by the triple strand of pearls. Just look how nicely everything blends when wearing the right accessory.  If you want to buy pearls like Jackie's, here is our white pearl necklace with triple strands.

Combine white pearls with bright bold colors like this strawberry pink and you'll be amazed by how wonderfully they pop and adorn your neck. As we previously mentioned, Jackie owned several pearl necklaces. You can also find the double strand white pearl necklace here.

You can easily obtain another Jackie Kennedy look with this Pearl Necklace in YinYang Black.
3. Silk scarves and sunglasses
Beautiful printed headscarves and sunglasses will never go out of style. You can always adapt them into a modern look.  She preferred a bold print, worn tied around her head or around the neck.  Just make sure the scarves are silky and wear them with oversized sunglasses, just like Jackie.
4. Sleek and elegant dresses
Elegant, sleek or silky dresses were indispensable clothing elements into her wardrobe. It's as simple as that. If you want to look ultra feminine, nothing will work better than a long dress. Jackie Kennedy's style during her marriage with president Kennedy was pretty conservative. She often wore taffeta dresses in one color only, with a bow around her waist.
As fashion evolved, she then she began to wear dresses with prints and ruffles.
5. Casual and relaxed
After all these pretentious outfits, we bet you never imagined Jackie O. in jeans. Well, we will surprise you and show you that you can also look chic in a more relaxed and casual look. The marriage with Aristotle Onassis also brought some changes into her wardrobe. Did you know that his love for her even inspired him to name the "Jackie Onassis" Beach on the private island of Skorpios?  Here's how to include basics in order to obtain a breezy and nonchalant attire: flat sandals with a floral dress, the classic navy blue trousers with a matching shirt, jeans with a simple top.
Throw in a long strand of pearls like this one, and you're ready to hit the streets or run some errands with style.
In the end, we hope we can all agree that Jackie Kennedy's style is obviously timeless and flawless. We believe that she will always be a valid and safe source of inspiration for those who want to have more glamorous appearances. We encourage you to test these style tips because they will bring a noticeable change into your looks.
(Visited 18,436 times, 1 visits today)