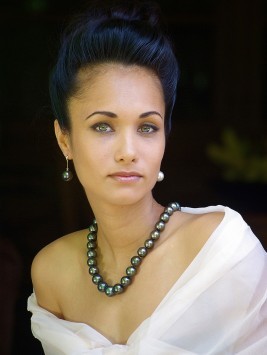 The mysterious black pearl is surrounded by an intricate web of legends, myths, symbols, and meanings. It is present in almost all cultures around the world and has been associated with countless folk stories. But no matter where the mythology stemmed from, one thing is certain and universally acknowledged: black pearls are some of the most valuable gems on the planet, being true marks of wealth, power, and wisdom. In our contemporary times, the Tahitian black pearl necklace or a pair of black pearl earrings make more than a statement: they are symbols of refinement, elegance, and class.
Sophisticated, yet trendy, formal, yet wearable in casual circumstances, a black pearl necklace is perhaps one of the most versatile and chic pieces of jewelry in your collection. One of the first things you should know, however, is that cultured black pearls are not, in fact, pitch black. Many have a metallic luster, others come in hues and shades of dark green, navy blue, peacock, silver, dark gray and so on. They can be worn for a great number of occasions and match countless different fashion styles, personal tastes and life choices. Not so long ago, we talked about a few unconventional ways to style your pearl choker. Let's to the next level and discuss when and how to wear your black pearl necklace to enhance your natural beauty and compliment any outfit, no matter the context.
The Black Pearl Necklace Etiquette
Black pearls are rather large gems, which is why the black pearl necklace value is higher in comparison to other pieces of pearl jewelry and types of pearls, be them Akoya, freshwater and so on. Given their size, luster, value and color, black pearl necklaces are usually worn in more formal situations. The traditional etiquette says they are not meant to be flashy. On the contrary, they are meant to suggest dignity, seduction, art and elegance. However, even traditional etiquette can be astonished by some contemporary styles of wearing a black pearl necklace.
At the Office
Wearing black pearls at the office is a sign of feminine toughness and a symbol of power and wisdom. Compliment a formal outfit with a Chanel or Mikimoto black pearl necklace and enjoy the standing ovations coming from your colleagues, business partners, and managers.
1. Simple Black Pearl Necklace
A simple black pearl necklace, as a collar, choker or even opera goes great at the office as a statement piece and a focal point for a pastel, soft, creamy colored outfit. It will elevate the outfit and make you look sophisticated and classy even in a long thin salmon pink summer dress.
2. Black Pearl Pendant
You don't need to wear a long black pearl necklace at the office to enhance your feminine charm. A single black pearl pendant coming together with a refined white gold chain makes you look gorgeous in your black power suit. The black pearl necklace value is even more increased this way, as it speaks about that old fashioned simple elegance and attitude a real lady has no matter the occasion.
3. Black and White Pearl Necklace
The Chanel black and white pearl necklace is one of the most refined pieces of jewelry in existence. While such a necklace goes great with formal events, it can turn into a veritable statement piece at the office. If you pair it with a little black dress or a neutrally colored power suit, you will leave people breathless no matter which department you visit.
4. Layering Black Pearls Necklaces
If you opt for a black outfit, try layering three or more black pearl necklaces of different lengths. Such styling option will give you a more gothic look, indeed, but your black office dress and blazer will tone down the boldness of such choice. Moreover, layered black pearl necklaces will make you look incredibly sophisticated and powerful.
Casual Occasions
Black pearls can be worn while running errands, meeting friends for drinks or hanging out with your buddies on a Sunday afternoon. The only thing you must keep in mind is to style your black pearl necklace correctly.
1. Layered Black Pearl Necklace
For a casual look to go with jeans, snickers and street-smart outfits, one of the best choices is to layer your black pearl necklace with other chains, faux pearl necklaces, beads and statement pendants. This way you will look young, fun and incredibly stylish. The best thing about this setting is that you can wear fake pearls and semi-precious gems together with your high-priced U.K. bought cultured black pearls.
2. The Statement Black Pearl Necklace
Such statement pieces usually come in sets, with earrings and bracelets, but you can also wear a single statement black pearl necklace to casual dates and regular girls' night out sessions. It may very well come in gold finishing or feature other gemstones and precious metals. Such statement piece accents any type of casual outfit. You can opt for some dramatic designs as well – the long drop set is amazing!
Formal and Special Occasions
We are talking about parties, cocktails, fundraisers, even funerals and social gatherings which require formal attires. Let your black pearl necklace stand out and charm everybody, as these are the places where it loves to seduce the audience.
1. The Refined Diamond Black Pearl Necklace
This design is the epitome of elegance and class. A Y chain with diamonds and a single black drop pearl can compliment any evening gown. You can opt for even simpler models, featuring a black pearl pendant in a diamond setting. Such necklaces usually come together with matching earrings. Let them shine by wearing your hair in a classy bun and choosing a shoulder naked dress.
2. The Chunky Statement Black Pearls Set
A-Class movie stars have a very soft spot for chunky statement necklaces. You can style your black pearl necklace adding a few other necklaces (onyx, diamonds, rubies and crystals go great with black pearls), or you can search for a gorgeous set comprising earrings. A true investment, this jewelry item will become a timeless piece to be worn for any formal occasion. You can try bold contrasts as such pieces add enough color to compliment a white dress or you can pick precious metals like sterling silver, platinum and white gold for a fabulous effect.
Before you decide where and how you want to wear your beautiful pearl necklace, keep in mind that you need to completely trust the seller and make sure your pearl necklace, no matter its length, setting or style, comes together with a reliable warranty policy.
(Visited 14,628 times, 1 visits today)