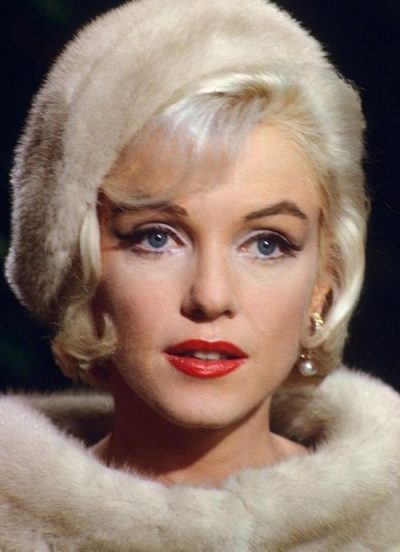 We've rarely seen a woman like the Hollywood star Marilyn Monroe. Needless to say, her charisma was absolutely contagious. Dressing like Marilyn Monroe is easy given her remarkable, signature style outfits which later became a source of inspiration for a lot of women. But have you ever wondered how to wear pearls like Marilyn Monroe?  She is our today's celebrity in pearls. We are ready to show you and indicate beautiful pearl suggestions if you are ready to hit "read more".
White pearls were Marilyn's favorite pearl color. A true style icon, she always opted for jewelry which enhanced her beauty. She loved wearing pearl necklaces with one or multiple strands. Her first pearl necklace was a string of Mikimoto pearls, given by the ballplayer Joe DiMaggio during their 10-day Japanese honey­moon in 1954. This simple pearl necklace became her most famous piece of jewelry. It was a 16-inch strand of 44 Akoya pearls, fastened with Mikimoto's signature gold clasp – a truly magnificent piece.
After several years, Marilyn offered the pearl necklace to Paula Strasberg, her drama coach. Paula then passed the pearls to her daughter Susan, who gifted them back to Mikimoto in 1998. So in the end they returned to the main source. She was also spotted wearing gorgeous pearl earrings that complimented her appearances. Now you can easily wear pearls like Marylin Monroe. What is more is that prices are extremely affordable. Plus, you get to wear them more than once, due to  their versatility.
HOW TO WEAR PEARLS LIKE MARILYN MONROE
It is important to cherish pearls as much as Marilyn did. We know…You're probably thinking she was known for singing in Gentlemen Prefer Blondes about diamonds being the girl's best friends. Well, she valued pearls and wore them with refined clothes and make-up.
First of all, let's start with the pearl necklaces.
Marilyn Monroe and her Pearl Necklaces
1. Marilyn is literally the definition of sex-appeal and natural femininity. She loved to wear off-the-shoulder dresses for an alluring appearance and what better way to accessorize this kind of dresses than with a beautiful pearl necklace?
This is our classic and timeless option: Chinese Akoya Cultured Pearl Necklace in White. With the sizzling shine of the mirror like AAA luster, you will be noticed long before you step into the room. The overall shape AAA of the pearls stays true to the luster and builds up from the sparkling glows.
2. This is such a creative way to wear a pearl necklace.  Firstly take a silk scarf, and then wrap a string of white pearls around it, just like in this photo. It is a wonderful tip on how to wear pearls like Marilyn Monroe the modern way.
3. Or you can reinterpret the idea and pick a pearl necklace with a ribbon: the Pearl Necklace in Jasmina White.
The white drop petite pearls lie within the white ribbon as they softly lay around your neckline. Dress up your fun and flirty casual attire and enjoy a night out or walk the beach in your white summer dress. Moreover, this beautiful and elegant necklace draws attention with its style and grace.
4. Looking for a more relaxed look, appropriate for casual meetings? You can wear a pearl necklace of 30" like Marilyn did in the photo below: with a simple black dress.
At 30", this Pearl Necklace is designed to layer for best results. If you prefer the long length and the elongated performance of the pearl necklace, leave the pearls flowing freely.
5. And if you really want to show off your pearls, then don't go for a double or a triple strand of pearls, but for four strings of pearls! A white top, a vibrant red lipstick and you're ready to conquer the world.
We don't own a four strand pearl necklace, but we do have a suggestion: mix this Pearl Necklace in Betty White, which can take the form of a triple strand necklace, with another single strand pearl necklace with a bigger length.
Marilyn Monroe and her Pearl Earrings
6. If you want to wear pearls like Marilyn, just start with a basic classic pair of pearl earrings, but make sure to pick a big size. The big size will make them more noticeable. You can opt for a seductive look and get your hair up. 
Here is our suggestion on how to wear pearls like Marilyn: Freshwater Pearl Earring Pair in White. These button shaped earrings are the perfect asset to set off and complete your attire and to adapt them to different styles.
7. She simply looks delightful with this pair of white pearl drop earrings. They add glam, class and elegance.
Our recommendation is this Japanese Akoya Pearl Earring Pair in Jacy White. They are very similar to what Marilyn was wearing in this photo and they are a dangling joy for any woman to possess.
8. Honestly, can you imagine Marilyn more glamorous than this? This spectacular pair of pearl earrings instantly gives her the veritable diva look.
Because we don't have a similar model, we will show you something as spectacular as that pair of earrings. This Japanese Akoya Pearl Earring Pair in Tamara White is a luxurious earring set option of 14K white gold, with three diamonds.
In the end, the girl who used to sing about diamonds, really knew how to wear her pearls. The white pearl necklaces showed us that the style of pearls remains as popular today as it once did. Moreover, pearl earrings proved us they will never go out of fashion and that there are endless designs that incorporate a pearl. We showed you 8 ways to wear pearls like Marilyn Monroe, so now you can pick your favorite manner. Whether she was wearing pearl earrings or necklaces, her pearls were elegant, fun, sophisticated – just like her. All cameras on you now, ladies!
Image sources: 1, 2, 3, 4, 5, 6, 7.
(Visited 4,885 times, 1 visits today)