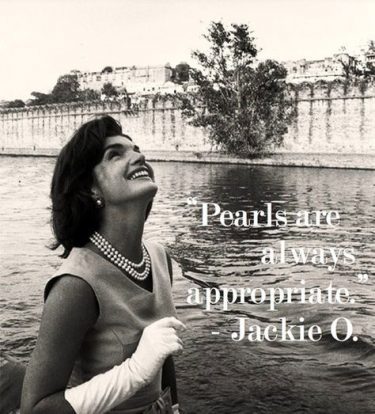 Hello, pearl lovers! Today we will show you that wearing pearls like a celebrity is easier than we imagine. Ever wondered how to wear pearls like a true diva? We know you did and we're pretty sure you found out already, but it never hurts to receive more tips. We're excited to present you today some beautiful celebrities who were wearing pearls with style and who knew how to incorporate them in their attire.  Because they really managed to set foot prints in the world of fashion, they have become style icons who inspire us even in the present context.
In this part, we will cover women who were glowing stars during the 20th century, but who never stopped to inspire us. So, get yourself comfortable in your armchair, grab a cup of warm coffee and discover how you can recreate some really fashionable outfits only by wearing the right kind of pearls. Not all of us are public faces and we don't have an army of stylists who can buff us up before any event in our life, so why not replicating from those who already did their homework.
Here are some of the style icons who knew how to wear pearls with true elegance.
Jackie O. Kennedy 
Ever wondered when to wear pearls? We bet you did. "Pearls are always appropriate", said Jackie O. Kennedy.  And yes, we totally agree with her. Be it morning, noon, or evening – you can never go wrong with pearls.
In this picture, for example, she is clearly the sun. The bright pink and the double strand pearl necklace go together like yin and yang. A bright face, an elegant posture, and you can easily incorporate a pearl necklace into a day look, perfect to wear at a formal occasion or simply going out to have lunch. Here is our option to go when trying to wear pearls like Jackie: the Pearl Necklace in Double Strand White. You don't have to be the president's wife to look gorgeous!
She clearly had the etiquette! Just look how polished she looks in these pictures – in both cases you can spot the pearl necklace and the gloves. Ask your grandmothers or mother if they are still keeping those silky gloves that hold so many bags and clutches with style.
2. Audrey Hepburn 
Audrey Hepburn taught us that classy girls wear pearls. They even wear pearls in the morning, while having breakfast. A true fashion icon, Audrey had a distinctive look. She is known for having a minimalistic style, with clothes in monochromatic colors and only occasionally statement accessories. It's true that when you want to stand out, less is more, and she knew best.
She preferred petite accessories which gave her a refined and suave air.  Wearing pearls like Audrey Hepburn is very easy. You can choose  a simple and classic pair of pearl earrings like these and a black dress that emphasizes your silhouette, and you're all set. This two items only will bring you close to her style.
3. Grace Kelly
Her name says it all: grace, elegance, glow. Kelly's legacy as a true fashion icon still lives on.  She used to say that she "favors pearls on screen and in her private life". Marvelous! This quote became famous and truly showed her devotion for wearing pearls.
The timeless style of the Hollywood's real-life fairy-tale princess can be depicted in every picture. She was not wearing what was fashionable. Instead, she decided what was fashionable. She loved pearl necklaces close to her neckline and matching pearl earrings. As you can see, evening dresses were mainly accessorized with pearls and for her, there were never enough. She mastered the art of wearing a necklace, earrings and a bracelet in the same time. If you want to wear a pearl necklace like Grace Kelly, pick one like the Pearl Necklace in Single White.
4. Sophia Lauren
Sophia Lauren is simply stunning. During her acting career, she instilled passion, beauty, refinement. You can still notice her most beautiful features.  She was not afraid to wear multiple strands of pearls around her neck. Chic and glam characterize her sense of fashion perfectly.
You can recreate her look by wearing a black dress and a white triple strand pearl necklace  or a black one. What a "dolce vita"! Because we had so many options, here are more examples.
And yes, she's also showing us another way of wearing pearls. It's no wonder her influence on fashion is so enduring.
5. Marlin Monroe
Marilyn Monroe was a true goddess, a real source of fashion inspiration. Moreover, her feminine curves made her looks more appealing and she was comfortable wearing any kind of dress. She would match her outfits with pearls as seen in the pictures below. You can notice that she did not have a preferred type of pearl necklace, because she displayed multiple ways of wearing it.
If you want to get a similar look, try this long string of pearls.
And here's another way of wearing pearls: you can improvise and twist a long rope of pearls around a silky scarf. It looks dazzling and it goes well with the drop earrings! As a matter of fact, here's our interpretation on wearing pearl earrings.
All in all, you never have to have a pretext to wear pearls. If it isn't already, wearing pearls can become your thing too. If you have a taste for quality clothes, then you should definitely match them with fine pearl jewelry. Or you can just dress as simple as you want – with the right pearl necklace or earrings, we are confident that you will look spectacular.
Let us know who is favorite style icon and we will try to cover her in detail on a future post. Until next time, we hope you enjoyed discovering marks of these fashion legends that can match your style too.
(Visited 3,448 times, 1 visits today)