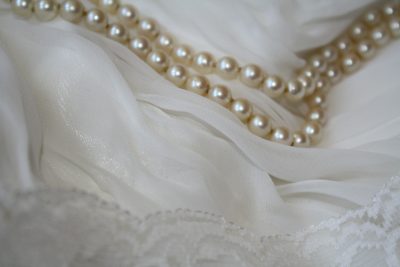 You've probably spent weeks, months or even years searching for the right wedding dress.  Now you've found the one you are looking for you need some beautiful jewelry to go with it.  You could go down the route of diamonds or rhinestones.  But may we suggest you look at getting some beautiful pearl bridal jewelry instead.  Read more and find out our tips!
You could combine the pearls with diamonds if you want.  But to be honest the beautiful simplicity of pearls will be the perfect accompaniment to your dress.
Pearl bridal jewelry is elegant and will end up adding that fairy tale finish to the dress you wear, so you really will feel like a princess on what is the most important day of your life.  They can help give your ensemble a more traditional vintage look if you like.  But depending on the style of pearl wedding jewelry you select it can make things look a little sophisticated and modern.
Rather than just one piece of jewelry why not invest in one of the many pearl bridal jewelry sets now available.   A stunning pearl bridal bracelet is going to show off your beautifully manicured hands.  As for a set of matching earrings, these will help to showcase your beautiful eyes.  Finally, we mustn't forget the necklace as this will really make you feel beautiful.
The one thing about any pearl wedding jewelry sets is that they are designed to last for years to come.  Plus they can be worn as a set or separately, so allowing you the opportunity to really enjoy wearing them now and in the future.   Moreover, each time you put them on you are going to be able to remember that wonderful day when you and your partner finally got to declare your love for each other to the rest of the world.
So Why Should You Get Pearl Bridal Jewelry?
For hundreds of years, pearls have always been closely associated with sophistication, romance, and purity.  There is nothing more stunning than a bride walking down the aisle in a stunning white dress and around her neck is a beautiful set of pearls.
As pearls come in such a varied array of shapes, sizes, colours, and tones this makes them versatile.  They are the perfect choice as they will enhance and support pretty much every wedding theme you can think of.
So How Do You Go About Matching The Pearls To Your Wedding Theme?
Before you go out and buy any pearl bridal jewelry including pearl wedding jewelry for bridesmaids you should think about the actual theme of your wedding.  This will then help you to decide whether you go down the more traditional route when choosing your jewelry, or go for something a little more modern.
Traditional Wedding Theme
For such a wedding then going for bridal pearl jewelry sets ivory or pure white in colour is your best option.  Also, stick to more classic designs, say a pair of stud earrings, along with necklace made up of just one strand of pearls and a simple pearl bridal bracelet.
Modern Or Contemporary Wedding Theme
If you have decided you want to have a more modern or contemporary wedding then you will find you have an even bigger selection of pearl wedding jewelry sets to choose from.  This is because you don't need to stick to convention and go down the route of wearing just ivory or white pearls.  Now you can start to add in some colour.  Maybe choose pieces of jewelry that include pink, lilac or even gold coloured pearls into the design.
You may even want to consider opting for some beautiful pearl and gold bridal jewelry instead.  Also, you could look at enhancing your ensemble further by being a little more daring and choosing jewelry that uses Black Tahitian pearls in the design.
So How Do You Choose The Right Pearl Bridal Jewelry For The Wedding Party?
You The Bride
You are the star of the event, so you should be wearing the biggest and prettiest pearls that you can.  But make sure that the ones you select actually reflect who you are as an individual.  Also, match your personality.  But please don't forget that the pearl bridal jewelry you wear should also match the theme of your wedding.
Make sure to choose the highest quality pearls that you can avoid.  Ideally, go for pearl wedding jewelry that has a rating of at least "AAA".  Also, you should be the one who decides on the colour, tone, and size of the pearls you want to wear.   Don't just go for the first set of jewelry you see, but choose one that really appeals to you.
Select pearl jewelry that has the highest shine, the most beautiful colour, and lustre, after all this is the most important day of your life.
When choosing your necklace you will need to select something that is suitable.  However, the neckline of your dress will also play a big role in what style of necklace you choose.  For example, if you've selected a wedding dress with a high neckline, one that sits above your collarbones then wearing a choker necklace would be the perfect option.   If you've decided to go for something a little more daring where the neckline is low then opt for a long strand of pearls.  A necklace that measures between 18 and 22 inches would be perfect.
You could if you want to go for a necklace that measures 32 inches in length, as you will find this is much more versatile.  During the wedding ceremony, you could wrap the necklace around your neck twice to create a double strand of pearls.  Then after the wedding and if you decide to get changed you could wear the necklace as it would normally be worn.
The Bridesmaids
During the wedding, your bridesmaids will be an extension of you. They are there to represent the friendship and love that you have for all those around you throughout your life.  You should be choosing pearl wedding jewelry for bridesmaids is a reflection of what you are going to wear but shouldn't overshadow yours.
So you should be looking for pieces where the earrings are smaller and the necklace is shorter than yours.  Also, the quality of the pearls doesn't need to be of the highest standard.
If you have a Maid of Honour it is important to help distinguish her from the rest of your bridesmaids.  You can do this by choosing pearls that are slightly bigger or of a different colour to those that the rest of your bridesmaids will be wearing.  Not only will they help her to stand out but also show her just how important and special her friendship is to you.
For The Flower Girls
Most flower girls tend to be quite young so their jewelry will be a lot smaller than the rest of your bridesmaids.   For them pearls that measure no more than 6.5mm is suitable.  As for the length of the necklace in their jewelry stick to something that measures no more than 15 inches.
For The Mothers And Grandmothers
Your mother is likely to be very much involved with the planning and preparations for your big day.  It is important that you show her just how much you appreciate what she has done for you.  The best way to do this is on the morning of your wedding present her with a beautiful classic pearl jewelry set.
As a woman gets older the wearing of much larger pearls will be more suitable.  Look for pieces that include pearls of between 7 and 8mm in size.  Also, it is perfectly okay for the more mature woman to wear a longer necklace.  One that measures between 18 and 22 inches would be perfect for your mother or grandmother.  As these will help to draw peoples attention away from what they may see as an unsightly feature.
The Groom
Most brides tend to forget about the groom when it comes to jewelry.   They often leave the guys to their own devices.  But why not the night before your wedding present him with a beautiful set of gold and pearl cufflinks.  Not only will such perfectly compliment his outfit, but will also add a touch of class and elegance to it as well.
At the end of the day, your wedding is there to show others how committed you and your partner are to each other.  Therefore each part of the ceremony should help to reflect this as much as it possibly can.  Remember this is meant to be a celebration and the right pearl bridal jewelry will help to enhance this even more.
We hope you have a wonderful day.  If you're unsure what type of pearl bridal jewelry to buy then we have plenty of options available to you here at PearlsOnly.com.   You are sure to find sets of pearl jewelry that will complement your wedding perfectly and help your special day become even more wonderful.
(Visited 447 times, 1 visits today)