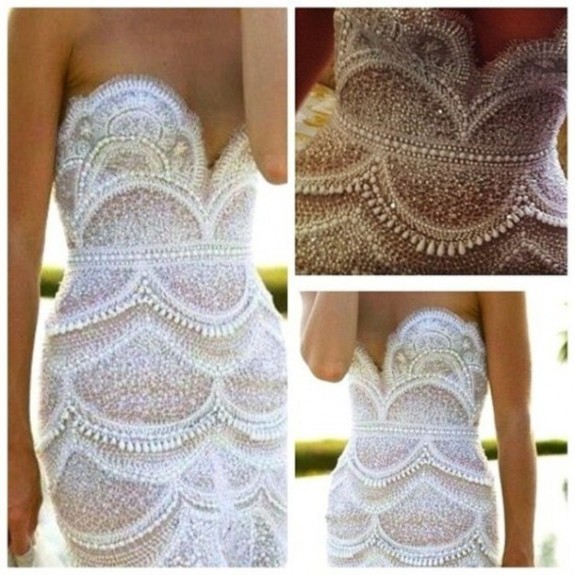 Marriage season is vastly approaching and soon wedding bells will be heard country-wide! How exciting!
It is every young girl's dream to have a picture perfect wedding, with her prince charming, an amazing venue, and most importantly a fairytale wedding dress.
In 2012, Australian actress and model, Jodi Gordon married Chris Judd, an Australian footballer, and she had a fairytale wedding with everything she could have ever wanted, including the perfect dress! This lucky lady had her wishes come true when she wore a fabulous couture gown by well-established designers J'Aton.
The white gown was amazingly adorned with intricate designs of beading, lace, tulle, and much more including Glass Swarovski pearls. The dress was reported to have taken a team of five people, 6 months and 300 hours to create due to its intricate pearls, lace, etc. detailing.
The dress was estimated to worth about $50,000 and the couture gown included 80-year-old vintage lace from Paris, silk muslin and organdie with Italian tulle. The dress was then covered in Swarovski and vintage beads that were "very old and rare finds".
In an interview with Melissahoyer.com (http://melissahoyer.com/how-the-jaton-wedding-dress-of-jodi-gordon-came-to-life/), J'Aton explained how the dress was made:
MELISSAHOYER.COM: "What was the dress made of?"
J'ATON:
"- Bra Hooks: used to fasten the gown for a more modern minimalist look with a heavily corseted base constructed within the gown as Jodi loves corsetry.
– Lace: We used four French laces that we fully reworked into the gown as well as a vintage lace that we found in Paris that was over 80 years old.
We also had a special lace created from our best friend Zoe England it was like webbing and fusing of silks that we designed in coral shapes to go with the beach side theme.
– Boning: Meters and meters of boning was used within the gown as it is something Jodi has always been fascinated and loves more than anything in a special gown.
– Cyrstals: Glass Swarovski pearls were used as well as some vintage pearls and Glass German droplet's that we found overseas. We had an array of little special finds and surprises within the beading. When it comes to vintage beads you can only find what you find and that is the beauty of vintage the fact that it is rare make it so precious and rare and it has its own history."
What an amazing dress! What do you think about this dress? Do you like the idea of pearls on a wedding dress?
Photo Credit: wheretoget.it//meliccahoyer.com
(Visited 2,183 times, 1 visits today)