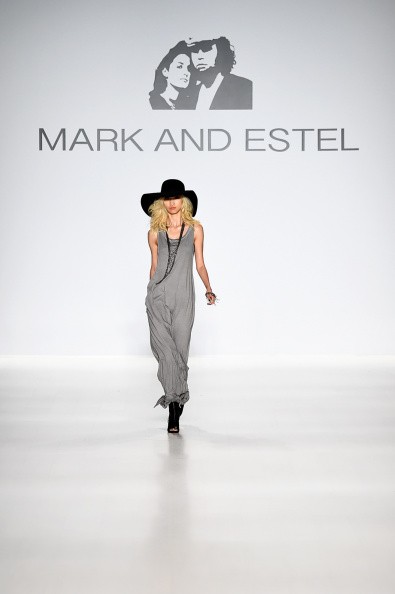 Mercedes Benz Fashion Week (NYC)–  The Mark and Estel show at Lincoln Center in New York City, on Friday, September 5th 2014 was just what everyone expected—fun and fashionably chic!
The crowd poured in by the hundreds with attendees well-endowed in fashion with titles like fashion editors, journalists, bloggers, stylists and fashion professionals.  All those in attendance were ready to see the much anticipated show of Mark and Estel's Spring/Summer 2015 line.
The energy of the show created lots of buzz with fashion enthusiasts sitting with anticipation waiting for the show to begin.  As we waited for the fashionably late show to begin, we at Pearl's Only, had the moment to take a look back into Mark and Estel's claim of fame. The husband and wife team, are best known for their upbeat fashion shows filled with striking clothing that can be worn right off the runway, and their out-of-the-box live performances which makes them dynamic rock stars!
The music began and everyone pulled out their means of photography to ensure that their social media friends didn't miss a beat. Side note: Why does it seem that I easily anticipate the ending of the presentation so that I can get a dose of the fun and quirky expression of music from the fashion duo? The lyrics just become so catchy with the many fashion references and electrifying sounds.
The clothing was very 'Super Hero' chic with numerous maxi dress and fancy flowing pieces that would easily be spotted on fashion favorites like Rachel Zoe or the always fashionable Nicole Richie.
Not straying from their signature colors of black and white, the Mark and Estel "Malibu Anthem Collection" was made for the easy and breezy 'Super Sexy Star'.  Styles flowed like waves in the ocean as each model sashayed down the catwalk; 70s inspired maxi dresses, badass knee-high boots, fashion-forward jackets, and never too shy micro miniskirts and mini shorts were just a few items that took to the spotlight. The high-lo dress are still alive for 2015 and fit right into the theme of opposites create balance. Mark and Estel are fashion rebels that invade fashion with mad genius making them a force to reckon with.
What we, at Pearls Only, think is most exciting about Mark and Estel is that their fashion makes sense… you can wear what they create and not look over-the-top unless you choose to be.  ""Everything you see on this runway is made of jeans, tees and sweatpants!" says Estel as she closes the show. How awesome!
Fashion Forecast for Mark and Estel: Young women will be influenced by their fun and flirty style for the Spring/Summer of 2015! We look forward to seeing more from these ever evolving designers.
Trend Report (what has been seen on a few runways for Spring 2015):
Black and White Colors
Fashionable Hats
Loose Fit Crop Tops
Micro Shorts
Maxi Dresses
Moto/Rocker Jackets
Off the Shoulder Tops
High-Waisted Skater Skirts
Dark Denim
Oversized Fabric Bow Ties
Sweetheart Necklines
Key Hole Necklines
Flowing material
Coverage Provided by: Ms. Elitou
(Visited 237 times, 1 visits today)