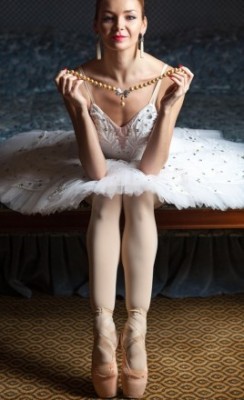 The single pearl necklace is a refined piece of jewelry that beautifully enhances a woman's cleavage. A quick look at the world's most powerful women shows us that pearl necklaces used to be big favorites among famous icons. Jackie Kennedy, Audrey Hepburn, and Grace Kelly gravitated towards this gorgeous jewelry item whenever they had to make an elegant appearance in front of the cameras. Fast forward a few decades later, when the single pearl necklace is still considered the epitome of sophistication. Worn by strong and influential women like Angelina Jolie or Michelle Obama, a pearl necklace, regardless of its overtones, will warm up the wearer's complexion, giving her a refined air.
With pearls staying strong and becoming increasingly popular among fashionistas around the world, we can't help but wonder what is the best way to wear a single pearl necklace? We honestly believe that fashion is all about having fun, learning how to look and feel amazing in your own skin and experimenting with new trends and fashions.
However, it's worth keeping in mind some fashion ­faux-pas when it comes to wearing pearls. If your aim is to look confident and beautiful, take a close look at these dos and don'ts about wearing a single pearl necklace. They'll surely shed some light on the entire accessorizing process you undertake each morning when you're getting ready for school or work.
Matching a Single Pearl Necklace with Your Outfit
Whether your goal is to feel comfortable by donning a casual look, or, on the contrary, you're choosing a formal outfit for an important business meeting, you should take into consideration a few important pointers when it comes to your attire. Think twice when you're perusing the clothes in your wardrobe and try to visualize how the outfit will look like. If someone else were to wear that would you compliment her on her style?
DON'T:
Don't choose a top, t-shirt, sweater or dress that has a busy pattern or design around the cleavage area. You want to allow your single pearl necklace to shine and enhance your natural beauty. If you're thinking of pairing a bow tie shirt with your luxurious strand of pearls, think again!
This is an excellent chance to remember that less is more. Stay away from blouses that have ruffles, sequins, and other extravagant insertions.
DO:
Take a moment and pay attention to the neckline of the blouse. Your top will serve as a beautiful canvas for your pearls. As a result, it shouldn't overwhelm the piece of jewelry, but help enhance its virtues. Will your single pearl necklace suit the chosen neckline? Pick a fabric that complements your jewelry and is equally sophisticated. Silk and chiffon look striking with a strand of pearls.
Color Coordinating Your Single Pearl Necklace
Creating a harmonious outfit should be the main focus when getting dressed in the morning. The harmony requires paying attention to mixing and matching the attire with the accessories while also taking into consideration the color scheme, how all the items match your complexion and how the fabrics mix together. All these are even more important when you decide to wear a strand of pearls.
DON'T:
Don't wear a white top and white pearls, especially if you have a fair complexion. This combo might wash you off and will only emphasize all signs of tiredness like dark circles under your eyes. In the same vein, a black single pearl necklace worn with an all-black outfit will work against those who have medium to dark complexions.
DO:
Find out if you have a cool or warm complexion. Does gold or silver jewelry suit your skin tone? By pinpointing the type of your undertones, you'll be able to make the correct decisions when it comes to choosing the right shade of eye shadow and when you have to color coordinate your clothes with your pearl necklace.
Pink or lavender freshwater pearls will look breathtaking with white tops (if it is a romantic look you're after) or with black t-shirts (if you want to look elegant but still a bit edgy). A Golden South Sea pearl necklace will turn heads if you wear it with a minimalistic white gown. Reserve your black Tahitian single pearl necklace for special events and wear it with emerald green shirts or pink quartz blouses.
Choosing a Suitable Single Pearl Necklace for Your Style, Age, and Event
Luckily for the modern woman, she has plenty of available jewelry resources to appease all her needs and meet all her exigencies. If you don't gravitate towards elegant and sophisticated attire, that doesn't mean you can't wear pearls. These precious gemstones have been reinvented by daring designers so they can be worn with casual clothes or as a statement piece.
Once you have the perfect strand of pearls that you feel perfectly completes your style, you can also think about the events you'll be attending when you're planning to wear your jewelry. To make the most out of your investment, opt for a versatile accessory that can be dressed up or down.
DON'T:
Don't give in to temptation and cover yourself in different types of accessories. Mixing pearl jewelry with other statement items can overwhelm your outfit and make you look like you're trying too hard. At the same time, wearing both pearls and colorful gemstones can be equally risky, especially if the latter are fake (glass or plastic).
DO:
When in doubt, leave out the accessories that you're not sure are a good match. If you opt for a single pearl necklace, let this beautiful piece of jewelry be the center of attention, especially if the size of the pearls is larger than 10 mm. If you want to create a luxurious look, complete the pearl set with matching earrings, a bracelet or a ring.
However, choose the same high-quality, real type of pearls as your single pearl necklace in order to achieve a harmonious effect of unity throughout your outfit. If you don't want to add more pearls, you can accessorize your earlobes or wrists with dainty jewelry items made out of high-quality gold or silver.
Image sources: depositphotos.com
(Visited 2,081 times, 1 visits today)