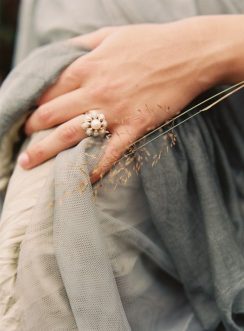 There is a plethora of pearl wedding rings out there to choose from. Whether your style is best defined by classic cuts and conservative accessories or by bold patterns and daring jewellery, there's definitely something for you out there. Pearl wedding rings symbolize much more than purity and beauty. These gemstones of the ocean have come to stand for grace, elegance, poise and confidence. Set in yellow gold, their beauty contrasts and creates a gorgeous adornment for the special day in a woman's life. A pearl that is set in white gold or silver is equally beautiful, but is better suited for warm complexions and less conservative wearers. Our collection of handpicked perfect pearl wedding rings cover all styles and desires. Browse this amazing gallery for inspiration. Pearl rings are truly a sight for sore eyes.
16 Pearl Wedding Rings to Match any Style
1. Vintage Pearl Wedding Ring
For the delicate woman who doesn't like oversized jewelry, this vintage pearl wedding ring is the perfect accessory for the big day. Comprising five small and perfectly round white pearls, this wedding band looks dainty and sophisticated at the same time. Paired with a matching tiara, it creates a dreamy effect.
2. Edwardian Pearl Engagement Ring
This ring is inspired by the Edwardian era and looks delicate and unobtrusive. Perfect for everyday use, this pearl accessory still manages to look unique. Set in hand-crafted 14k yellow gold are two gorgeous small white pearls with pink and golden overtones that beautifully complement any complexion.
3. Art Deco Pearl Ring
If you're not the biggest fan of dainty and delicate pearl jewellery, you can make a statement with this example of wedding pearl ring. What makes this ring stand out is the thick solid gold band that looks manly and luxurious. Surrounded by four tiny diamonds shaped like petals, the exquisite large pearl steals the show and manages to create an opulent, one of a kind wedding ring.
4. Silver Pearl Wedding Ring
Indie fans will rejoice to see this type of wedding pearl ring. Made out of simple materials and with an unsophisticated shape, this silver ring can easily be incorporated into any outfit, be it smart-casual or dressy-elegant.
5. Art Nouveau Pearl Wedding Ring
Pearl wedding rings do not have to be simple or boring. The proof is this art nouveau pearl wedding ring that incorporates colours and a divine pattern. Polished off with tiny, sparkling diamonds, the pearl ring has a beautiful setting to shine warmly. This type of ring is best suited for those who enjoy colourful outfits.
6. Elegant Freshwater Wedding Ring
Mature, elegant women will feel more comfortable wearing this type of freshwater wedding ring. With a classic design, this piece of jewelry comprises very small diamonds that beautifully reflect the light and a peach-colored pearl that impresses through its luster.
7. Delicate Pearl Ring
A splendid alternative for women who are not used to wearing jewelry at all, is this incredibly delicate and feminine pearl ring. The embodiment of purity and beauty, this unique wedding ring is simple, yet it speaks volumes about commitment and elegance. The tiny pearl is flanked by two equally tiny diamonds and everything is set in a romantic rose-gold band that is both playful and distinct.
8. Royal Wedding Pearl Ring
Women who enjoy being in the center of attention will appreciate the genuine value and worth of this pearl and diamond wedding ring. A real show-stopper, this accessory seems fit for queens. The dozens of small diamonds that envelop half of the wedding band add sophistication and elegance to the entire piece of jewelry.
9. Dainty Pearl Wedding Ring
A unique design that comprises diamonds and a small pearl is the best choice for young brides who have a casual dress code. Without overwhelming the hand, this dainty pearl wedding ring will pair nicely with a dainty gold bracelet or a feminine pair of chandelier pearl earrings that will emphasize the wearer's natural beauty.
10. Antique Pearl Engagement Ring
As an homage to your grandmother or an aunt, donning an antique pearl engagement ring can be the "something old" needed on the special day. Everything about this splendid piece is distinct and refined. The metal has a vintage feel and beautifully incorporates a natural pearl with gold overtones and well as two diamonds for the added luxe feeling.
11. Sophisticated Black Pearl Wedding Ring
Black pearls are not usually the first choice of any bride-to-be. However, black pearl wedding rings are becoming increasingly popular. They are simply elegant, especially when they are set in 14K white gold and are surrounded by diamonds. A great choice for those who want to feel chic, but not demure, the black pearl ring will effortlessly dress up any outfit in an instant.
12. Victorian Pearl Ring
If you don't want pearls to be the center of attention in your wedding ring, you can still incorporate the gemstones next to other precious gems. This Victorian pearl ring comprises electrifying opals that stand out next to the delicate pearls and add a touch of opulence to the entire piece.
13. Little Mermaid Wedding Pearl Ring
For a playful choice, brides will not go wrong with a Little-Mermaid inspired pearl ring combining yellow gold and white gold for an eclectic effect. The large pearl adorning the ring tones down the playfulness by making this jewelry piece more elegant and sophisticated.
14. Rose Gold Coral Pearl Ring
With an intricate and unique design, this coral pearl ring is not for everyone. It can be considered extravagant by some or tasteful by other. The distinct design holds a natural freshwater white pearl that beautifully contrasts with the metal.
15. Baroque Pearl Ring
Beauty doesn't necessarily imply symmetry or perfection. The best proof is this baroque natural pearl ring that looks raw and beautiful. The perfect accessory for a boyish style and attire, this wedding ring might not be everybody's first choice, but is a modern alternative to the classic pearl wedding ring.
16. Conch Pink Pearl Engagement Ring
Simply stunning, this pink pearl engagement ring can double as a pearl wedding ring if you're an unconventional bride. The exquisite composition comprises pink toned diamonds and stars a striking conch pearl that is breathtaking. Its one-of-a-kind luster makes it stand out of the pearl wedding rings crowd by offering a note-worthy alternative to picky brides-to-be.
Image sources: 1, 2, 3, 4, 5, 6, 7, 8, 9, 10, 11, 12, 13, 14, 15, 16
(Visited 16,815 times, 1 visits today)