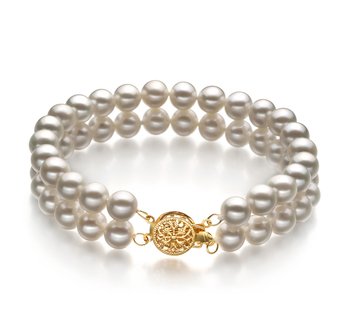 Pearls are a classic jewellery item that should be present in almost everyone's wardrobe. This post will mostly be about the double strand pearl bracelet. It can be worn effortlessly with every clothing item and you can rarely go wrong with pearls. Whether you are trying to pull off an elegant vintage look or a modern, edgy ensemble; pearls can help you achieve that look. All you need is the mastery of how to coordinate the pearls with your outfit and you can put on a stunning appearance. Pearls can make a boring outfit exciting and add that 'something special' to your everyday attires.
If you are a newbie who is just starting out on wearing pearls, a pearl bracelet is a good place to start. Pearl bracelets can grace your wrist with class. In fact, it is a perfect item if you are looking for something that can suite your formal work outfits or everyday casual wear. You could wear the pearl bracelets in myriad ways, whether as a single pearl bracelet, or a single or double strand pearl bracelet or a stacked pearl bracelet. Basically, there are many ways in which you can use this versatile gem and put it to good use. Read on to know about how you can wear pearl bracelets.
Selecting the Pearl
The first step to deciding on how to wear the pearl bracelet is choosing the perfect pearl in the pearl bracelet. Once you begin exploring your options, you will notice that the humble pearl comes in various shades, sizes, and shapes. So your primary responsibility is to pick out a colour that will suit your skin tone. Here's a quick guide for choosing the pearl colour:
White Pearls with pink, cream, ivory, and silver overtones: Suits almost everyone
Black Pearls with grey, peacock, silver, and purple overtones: Suits almost everyone
Pink, Cream, Lavender Pearls: Fairer skin tone
Golden Pearls and pearls having silver overtones: Darker skin tone
You can then choose the size depending on your age. Here's a handy tip while picking out the size:
5mm x 6mm pearls – Young Teens and Tweens. This size is also suitable for petite women.
6mm x 6.5mm pearls – Older Teens and Young women.
5mm x 7mm pearls – Women in their late 20s
7mm x 7.5mm pearls – Women in their 30s
8mm x 8.5mm pearls – Women above the age of 35
5mm x 8mm – Women in their early 40s
9mm x 10mm – Women above the age of 45
Which Pearl Bracelet to Choose? Single Pearl Bracelet, Single Strand Pearl Bracelet, Double Strand Pearl Bracelet, Multi Strand Pearl Bracelet, and Pearl Cuffs – The Endless Options!
Single Pearl Bracelet
For a very subdued yet regal look, you may opt for a single pearl bracelet. Much like the name suggests, a single pearl bracelet is simply a single pearl strung around a delicate chain and is worn around the wrist. You can also have them strung on a sturdy metallic bangle, if you please. They are perfect for daily wear and are not fussy. You can get one customised based on your likes and needs. All you need to do is decide on a pearl that would be the focus of your bracelet and have it in a chain or a bangle. Single pearl bracelets work well with casuals and if you are one of those who enjoy wearing a pearl jewellery item daily, this piece would be your go-to pearl jewellery.
Single Strand Pearl Bracelet
The single strand pearl bracelet is dependable in almost every event. Whether it is an office meeting or an evening date, a timeless piece such as a single strand pearl bracelet will definitely transform your look. A single strand pearl bracelet is elegant and minimalistic. It does not look tacky but at the same time gives a feeling of not being without jewellery.
Double Strand Pearl Bracelet
If a single strand pearl bracelet may appear too plain, you can definitely add another layer for a stunning double strand pearl bracelet. You can layer using two different strands of pearl bracelets or you can use two of the same kind. It makes your piece a statement jewellery. It offers the same classy look without making your bracelet appear chunky. Just take a look at this wonderful pink double strand bracelet from our collection.  The 7-8mm pink pearls come in on the large side of the freshwater pearls and thus command a higher price.  For a classic, refined look, choose a double strand white pearl bracelet with a gold clasp. If you really want to stand out, a black double strand pearl bracelet with a white gold clasp is the accessory you need.
Multi Strand Pearl Bracelet
As the saying goes, the more the merrier! If the single strand and double strand pearl bracelets are stunning, more layers would mean more beauty. If you wish to make a bold fashion statement, get a hold of a long strand of a pearl necklace and wrap it around your wrist to form layers. You could even pick pearl strands having different shades and stack them up for a dramatic effect. Have fun with your experiments and try out different grades, colours, shapes, and textures to get a unique look. Go crazy for a fun and messy look!
Pearl Cuffs
Pearl cuffs should definitely be reserved for special occasions like a fancy brunch or an evening gala. These are definitely eye-catching and can make you stand out in the crowded affair. Normally, pearl cuffs are composed of 5-6 rows of pearl strands, which are brought together by metallic (silver, gold, or platinum) accent pieces, tied together with a clasp. Since the rows in pearl cuffs are more sorted, they are fitting to formal events as well. From parties to weddings, pearl cuffs can surely add glamour to your wrist.
Pearl Bracelet Styling Tips
So, you now have a greater understanding on the type of pearl you wish to wear and also the kind of bracelet that would suit your needs. Here are a few additional tips to add that 'wow' factor to your simple pearl bracelet:
Bracelets by Day, Necklace by Night!
Yes! As mentioned in the portion about multi strand pearl bracelet, you can even use your long pearl necklace as a bracelet by wrapping it around your wrist. In fact, if you have an old unused pearl necklace, you can have them restrung into an adorable double pearl bracelet. Using pearl necklaces as bracelets and necklace could be handy also since most women do not prefer wearing a pearl bracelet with a pearl necklace.
Stack it up
Stacking up bracelets is a good way to highlight your jewellery. You can diversify your accessory piece with the help of chunky metal bracelets, beaded bracelets having a different stone, leather or metallic (silver and gold) cuffs, watches, and charm bracelets. Stacking offers a variety and you can mix and match stacked bracelets with any kind of outfit. Here is a modern version of a pearl bracelet with different elements. The cultured pearl bracelet in Desir white. The shape pearl displays out of round pearls with no clear definition. They are full of unique and fascinating characteristics such as rings, ridges, various shapes, sizes and protruding potions.
Think of pairing our Lola Bracelet with some leather bracelets and a watch and you could pull off a look like the Barbadian singer and songwriter, Rihanna! The pearls are separated with a hand tied double knot to ensure that no two pearls can rub, touch or damage the shape or luster of each other.
Cascades add the Oomph!
If you wish to steal the limelight with your pearl bracelet, then definitely try cascading! String a few strands of pearls having variable length on a sturdy metal bangle. You may even do this to your pearl cuff. Cascades or tassels will make your jewellery stand out. This is a definite item for a glamorous evening.
Pearl Charm Bracelets
Bracelets no longer have to be dull and boring. In fact, these pearl bracelets could add a contemporary look to our ensemble! Pearl charm bracelets have been trending lately not just because they are visually pleasing but also because they are extremely versatile. From your little black dress to your dazzling evening gown, this pearl charm bracelet will complement everything!
Necklace vs. Bracelet
Pearls being a statement gem should not clash with other jewellery items. This also includes other pearl jewellery pieces. Therefore, avoid pearl necklaces if you are a wearing a loud and obvious pearl bracelet. Something like the 8-9mm A quality freshwater cultured pearl bracelet in black would work alone as a statement jewellery and may not need a supporting pearl necklace.
However, if your necklace and bracelet are both plain, then they can surely be teamed up, in fact, they will completely refined professional look.
Vintage Pearl Bracelets
While most pearl wearers think of pearl bracelets to be modern and casual, vintage pearl bracelets are also a reality. Our Eda Bracelet containing white freshwater pearls is one such piece that will add volumes to your already special day.
They make beautiful gifts or jewellery items for a special occasion like weddings. They will become timeless jewellery items that you can hand down from generation to generation. Double strand pearl bracelets are especially suitable for such events and purposes.
So go ahead and grab a pearl bracelet! In fact, buy two to make a double strand pearl bracelet! Go ahead and experiment with the colours and textures and styles to find something that suits you best. Use something with varied texture like the Paige Necklace or something funky like the Jasmine necklace to wear as your pearl necklace. Or start with a dedicated pearl bracelet like the Irina Bracelet to add some chicness to your entire outfit! Whatever you do, remember to stay glamorous!
All in all, this was our style guide for wearing pearl bracelets. We often got asked how to wear a double strand pearl bracelet, so we hope we have answered some of your questions. No matter what type of bracelet you choose to wear, make sure to take care of the pearls as well in order to last for generations!
(Visited 2,676 times, 1 visits today)