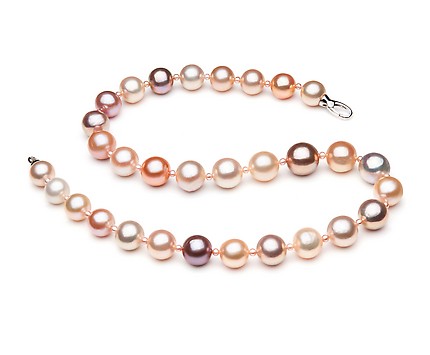 Until a few years ago, freshwater pearls with a size of 10 millimeter or more might sound too good to be true. Fast forward a few years, and the Edison pearl has made those large pearls a reality. These Edison pearls are the latest development in the Chinese freshwater pearl production. At the time of writing, only three pearl farms are making Edison pearls.
What about the details of these pearls?
These pearls are relatively innovative and large, but what about the quality of these pearls? Can these pearls compare to what shoppers have become accustomed to? We will break down the specifics about these Edison pearls. The shape is usually round to slightly off-round. As with most freshwater pearls, you should not expect a perfect round shape for every pearl.
The color and overtone are where these pearls stand out. These pearls have an exotic, multicolor body with deep and natural rich colors. Some of the colors include apricot, copper, cream, purple, plum, peach, and pink, these have a stunning silken glow and metallic luster. Those who are familiar with freshwater pearls will quickly note that many of those colors have been, until recently, hard to find.
It is also important to note that these are organic cultured pearl and natural color – there is no treatment. The color that you see is the actual color of the pearl. The surface luster is very high and bright. You may notice minor natural indentations on the surface of the Edison pearl. Keep in mind that these are not flaws – it is an organic experience.
The size is massive
What separates these Edison pearls from so many other Chinese freshwater pearls is the fact that they are enormous. Both the weight and luster are excellent as well. The metallic luster on the plum, peach, and natural pink is extremely rare. This is another reason that these Edison pearls have become so popular so fast.
For people who love pearls or who are dreaming about owning pearls, the introduction of the Edison pearl is a blessing. These beautiful, large pearls not only highlight the increasing level of quality of the freshwater pearls that are coming out of China, but they also show that these pearl companies are dedicated to innovating the product that we all love. Those are exciting times indeed.
(Visited 399 times, 1 visits today)