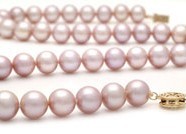 Romantic and lovely are just two words that describe pretty pink pearls jewelry. Pink pearl jewelry simply radiates femininity like no other. There is no match to this timeless classic. Pink pearl jewelry brings together the timeless elegance of a classic pearl with the delicate blush of alluring pink.
There are so many ways to wear pink pearl jewelry!
In the office, add pink pearl jewelry to your power suit to remind them all that you are indeed a woman. Whether you choose a necklace, bracelet or earrings, pink pearl jewelry will add an air of feminine beauty.
In the boardroom, let them know that you dare to command attention while maintaining your femininity by wearing pink pearl jewelry. Put them on notice!
After work, you can let your hair down wearing pink pearl jewelry. You'll radiate romance and timeless elegance wearing a piece or a matched set of pink pearl jewelry.
During playtime, you can finish off any summer or special occasion dress with your lovely and pretty pink pearl jewelry. Maybe add a bit of frosting to that summer cookout or company picnic?
For the most relaxed of occasions, wear a touch of pink pearl jewelry with your sneakers and jeans to add a big dash of fun! You'll love the way they shimmer and shine.
And of course, pearls are always perfect for every formal occasion and event. Pink pearl jewelry has become increasing popular for brides and their bridesmaids. Bridesmaids will be delighted to wear Pink pearl jewelry sets as an adornment to their pastel gowns. Blushing brides themselves are perfectly complemented with pink pearl jewelry.
Pink pearl jewelry is so versatile! You'll love wearing them everywhere and for every occasion!
Visit our Pink Pearls Collection
(Visited 147 times, 1 visits today)