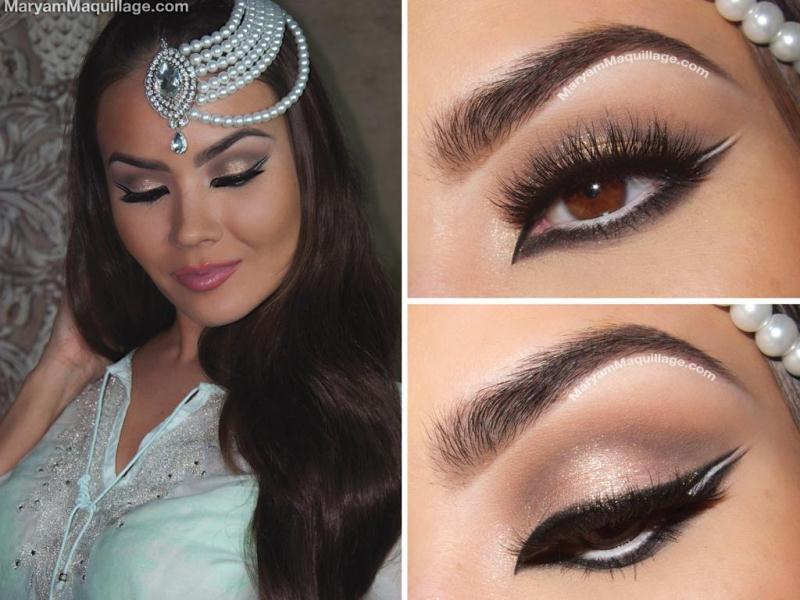 Dynamic makeup artist, Maryam Maquillage, showed why she is a makeup guru favorite once again.
On her blog, maryammaquillage.com, Maryam created yet another amazing look which she entitled, "'Wintry Exotic Arabic Makeup Tutorial". Although winter will be over in 4 days, (Spring begins March 20th, 2014) nothing says that you can't leave the winter season without a bang!
Maryam blogs that the look was inspired by the beauty and art of Arabic makeup stating;
"Today, I'm inspired by Arabic makeup and I'm re-interpreting it using cool, frosty shadows and luscious cruelty-free mink lashes to fit the winter theme. Arabic makeup is truly one of my all-time favorite styles for any occasion — it's always graphic, bold, edgy and so exotic!!!"
We really appreciate her bold yet natural style which was exactly what she was aiming for according to her statement:
"My version of this look is using neutral pigments and shadows from Motives Cosmetics, as well as incorporating pieces from a new jewelry line and my new fave lashes."
In the tutorial she shows you step by step how to create the flawless look with great images and easy to comprehend instructions.
By the way, if you are curious, to know where she got that awesome pearl headpiece, it was from Jewels N Gems Luxury Dezyre.
Below are the products that were needed for the eyes.
For more detailed instructions and images visit here.
What do you think of the style? Will you be trying?
Photo Credit: www.maryammaquillage.com
(Visited 671 times, 1 visits today)