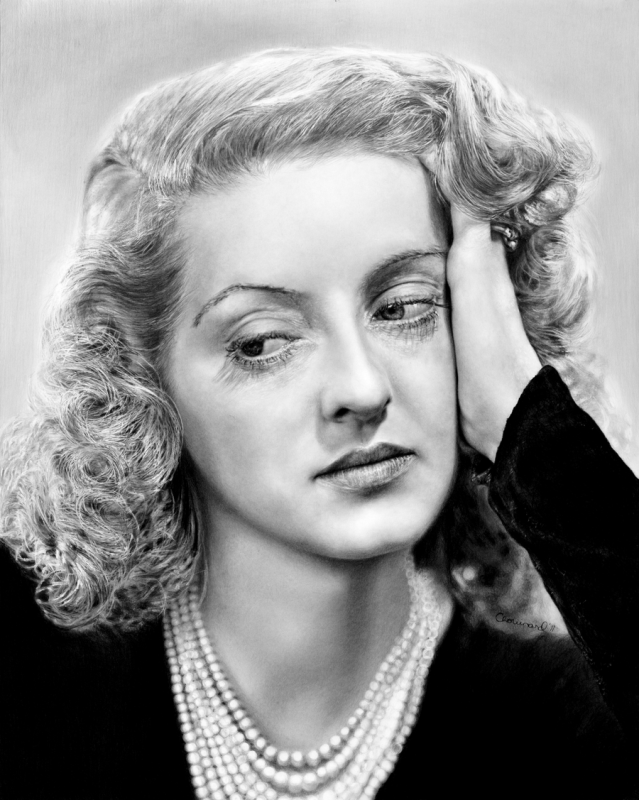 We love to go back and find some of the most iconic woman of all time wearing pearls!
Today's feature is a movie legend.
Ruth Elizabeth, better known as "Bette" Davis, was a woman known for her eyes and unsympathetic acting roles.
Known for her iconic roles like Now, Voyager (1942), she was an actress that was a house-hold name.
We really love this image because it is actually a life-like professional drawing of the famous star by artist, Melissa (casparofambrose), who only used 2 pencils, 6B-8B pencils, a white vinyl eraser, Q-tips, and Kleenex. Isn't this amazing!
We love this drawing of Ms. Davis because it captures her thoughtful and classic style. You can most often find that her style is very modest. We believe her pearls are very fitting to her and it really brings the image together.
Melissa wrote on the caption of the image:
"Bette Davis is my favorite actress and when I saw the reference for this I had to try it. I love that she's looking away yet her eyes are still so gripping as if she were staring straight into the camera. Also, I like that you can see the natural shape of her lips, which was usually obscured by the way she wore her lipstick. I spent forever working on this, but I so enjoyed taking my time with it. [This is my] first time doing pearls – I think they look more like pebbles, but it's not horrible. Oddly, this is also the first time in ages that I can recall doing light hair, which is so much more complicated than dark hair!"
What do you think? Do you like the drawing? Comment below with your thoughts!
Photo Credit: casparofambrose 
(Visited 530 times, 1 visits today)