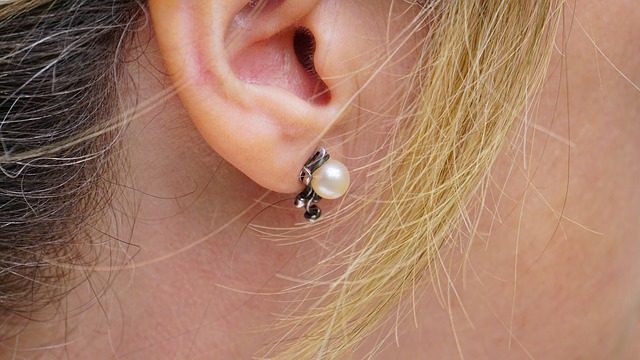 Most women tend to associate jewelry with summer when wearing bangles and hooped earrings are the norm.  But in fact, wearing any kind of jewelry even that with pearls in the design is never more important than during the winter months.  We are going to give you some tips on how to wear pearls during winter.
Okay, you may think that wearing pearls is only for the spring, yet they will look fabulous with many of your outfits this winter.  They won't only enhance your entire look but add a touch of drama and elegance to the outfit as well.
If you aren't sure about how to wear pearls this winter then maybe this article will help.   Here are a few ideas on how to wear pearls throughout the next few months.
When it comes to you wearing pearls in the winter there is one primary fashion difference.  This being that you are far less likely to wear yours worn directly against your skin.  Instead, you will probably find that you wear them over clothes, as all you are concerned with at this time of year is keeping warm.
So in other words, what generally happens during the warmer months is that you tend to wear pearls that are of a colour that compliments your skin tone.  However, during the winter months of course what you actually wear will have a bigger impact on the types of pearls you wear.
How To Wear Pearls This Winter
Formal Events
At this time of the year, you probably have quite a few parties or other formal events to attend.  So, of course, that little black dress will certainly be doing the rounds at this time of the year.  Nothing looks more glamorous than when you wear your LBD with a beautiful pearl necklace.
You can either choose to wear a beautiful pearl choker or a long strand of pearls, plus anything in between.  You could even if you wished wear a stunning pearl pendant necklace that includes either a single black Tahitian or golden South Sea pearl in the design.
Plus of course, don't forget those matching earrings or bracelet to go with the necklace.  Both of which will enhance the look of not only the pearl necklace but the rest of your outfit.
Of course, you don't have to stick to the norm when it comes to your party outfits this winter.  You can if you want to be a little more adventurous.  Silver is a popular colour this winter and made a big splash on the runways.  So why not consider teaming a silver top or dress with your pearls this winter.   Not only do they complement each other but they will help to enhance the beauty and luster of the pearls that you choose to wear with such an outfit.
Casual Events
Whether it will be lunch with your best friends or enjoying a night out with your partner, it's okay to team your pearls with more casual outfits.   For brunch or lunch with your friends why not team a single strand of pearls with a crisp white shirt, V-neck jumper and a pair of jeans and ankle boots.
You could wear a short strand pearl necklace that just peeks out from under the collar of your shirt or a long strand that sits beautifully against the sweater you are wearing.  If you really want to add a touch more drama to such an outfit opt for a pearl necklace with pearls that are a different colour to the shirt or jumper you are wearing.   For example, if you are wearing a black jumper team it up with a strand of white, pink, or lavender coloured pearls.
You need not team your pearls with the usual blue jeans, why not opt for either a pair of black, white or even red jeans.  Then you can be a little more adventurous with the colour of the pearls that you wear.   For example with a pair of black jeans and a black t-shirt why not opt for a pearl necklace or pendant and matching earrings that include cream, lavender or pink coloured pearls in the design.
Hopefully, the information above has given you some good ideas on how to wear pearls casually this winter.  You could also take a look online to see just how other women have chosen to wear pearls with jeans and other casual outfits that they have in their wardrobe.
What To Wear Pearls With – Things To Consider
Colour Of Pearls
It is important when you want to wear pearls this winter you need to consider not only the style but also the colour of the clothes, which you intend to wear yours with.  This will then help you to decide just which colour pearls go with which outfit in your wardrobe. Also, it will help you to choose pearls that really define your own unique style.
If you are looking for pearl jewelry that won't just go with formal attire, but also more casual outfits then white round pearls are the perfect option.   Not only do they go with a wide array of different colours they will add an instant touch of glamour and elegance to even the most casual outfit.
However, if you want to be a little more dramatic and attract attention, of course, you can think about wearing a necklace, earrings or bracelet that are made up of more colourful pearls.  Nothing is going to add a real touch of drama to your whole outfit than say a pearl necklace that is made up of large gold or black pearls.
Size Of Pearls
As well as colour plays a vital role when it comes to how to wear pearls this winter, you also need to consider the size of the pearls.   Before we go any further, the first thing you need to be aware of is that the most popular size of pearls that most women tend to wear that measure between 7 and 8mm in diameter.
We often refer these to as the "go-anywhere" size of pearls and look perfect when worn with a whole array of different outfits.  Not only do they look stunning when worn with a little black dress, but just as cool when you decide to team yours with a t-shirt and jeans.
Another reason for these size pearls being so popular is that women of all ages can wear them, whether they are Sweet 16 or in their twilight years.   Such size pearls whether in a necklace or a stunning pair of pearl earrings can be worn and enjoyed for many years to come.
Of course, if you would prefer you could wear pearl jewelry this winter that includes much larger size pearls in the design. For a night out why not wear a beautiful pearl necklace that is made up of ones measuring between 8mm and say 11mm in diameter.   Not only are they visually stunning, but will add that all-important touch of glamour to your entire outfit.
Shape Of Your Face
When it comes to pearl earrings you need to consider the size and shape of your face. If you have a round-shaped face a beautiful pair of pearl drop earrings would look stunning.  Opt for a pair of tapered ones as this will help to elongate your face.
If you have an oval-shaped face you are lucky as you can wear pretty much any style of pearl earrings that you want.   You'll look just as good wearing stud pearl earrings as you would if you wore a pair of teardrop ones.
For any woman who has a square-shaped face round, hooped or drop pearl earrings are perfect for them.  They help to balance out the angles in their faces.
If you happen to have a heart-shaped face choose to wear long dangling earrings if you can.  Go for ones where the pearls sit at the bottom of the design.  Not only will this help to reduce the angles around your chin, but make your face look more rounded.
Just like women who have an oval-shaped face if you have a diamond-shaped face you can pretty much wear any style of pearl earrings that you want.  You could even go for a pair of long drop earrings that sit just above your chin.
Hopefully, the ideas above will help you to create some amazing looks throughout the winter months and well into spring.   You will soon discover just how versatile pearl jewelry can be and isn't something that you only need to wear throughout the summer months.
Here at PearlsOnly.com, we have an amazing selection of beautiful pearl jewelry for you to choose from, so finding something that suits not only your particular tastes but also your budget shouldn't prove difficult.  We are pretty sure that you will find that perfect piece of pearl jewelry that you will love to wear time and time again, for many years to come.
(Visited 1,589 times, 1 visits today)