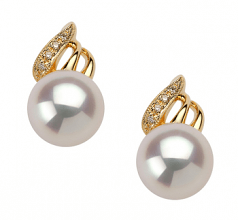 The wearing of earrings can be traced all the way back to ancient times.  Like earrings, today most were made from precious metals, stone, glass, coral and of course not forgetting pearls.  So a pair of gold and pearl earrings that you may wear today you could, of course, trace their history back to ancient Greece or Persia.
A Short History of Gold and Pearl Earrings
However, although they were worn earrings really didn't become fashionable until the Renaissance period (14th to 17th Centuries).  As by this time wearing hair much shorter had become more common.  This allowed people to wear earrings that would look amazing.
Although people could be seen wearing earrings throughout the 18th and 19th centuries, it was in the 1950's and 60's that suddenly wearing earrings became even more popular.   However, at this time there was anywhere that you could arrange to get your ears pierced as you can today.  Instead, most women during these periods would pierce their own, in some cases, they would arrange ear piercing parties.  At such parties, teenage girls and women would perform the procedure on each other.  But of course, the risk of problems arising was much greater.
As a result of this, a number of doctors began to offer a service to their patients to get their ears pierced.  At least then the ears would be cleaned properly and sterile needles were used to create the hole in the ear.
As pierced ears became increasingly popular so more people begun to offer professional ear piercing services.  By the 1970's a number of department stores would hold ear piercing events and these would be attended by companies who manufactured earrings.  At such events, a nurse or other person trained in such skills would perform the procedure on those attending.
Initially, most ear piercings required a sharpened and sterilized starter earring or needle to be pushed through the earlobe by hand.  But of course, over time instruments were created that meant the task took less time to complete.  Today most companies that offer ear piercing services use a special gun.
Get this pair from here.
Yet although they shorten the procedure you still need to be wary when getting your ears pierced.  If you aren't careful you could end up having problems later on.
As you will already know earrings come in a wide range of styles and shapes.  Plus of course, they are made from a wide variety of materials.  But if you are looking for a pair of earrings to help add a touch of glamour to any outfit then investing in a good pair of gold pearl earrings is a good idea.
But before you go and buy your first pair of gold and pearl earrings, there are certain things to consider.
Below are just a few things that you may find useful in helping you to select the perfect pair of pearl and gold earrings for you.  We will start off by looking at the different styles, before then moving on to tips to help you buy your first pair of such beautiful adornments for your ears.
What Style Of Gold And Pearl Earrings Should You Get?
As already mentioned there are several different styles of earrings to choose from but below are the ones we feel show off the pearls a great deal better.
Statement Earrings
These are often defined as being earrings that invite attention from others.  So you will find that the designs are very unique.  Jewelers will also like to use bold designs as well as innovative construction.  They love to combine very unusual materials, for example, a design may create a pair of rose gold and pearl earrings or a pair of gold and white pearl earrings as their statement pieces.
Stud Earrings
When worn it looks like these types of gold and pearl stud earrings seem to float on the earlobe or ear.  These are constructed by being attached to a post that then penetrates straight through the wearer's ear or earlobe. To keep in position, a removable back or clutch is pushed on to the post.
However, some now come with a threaded post so the back has to be screwed on.  As a result of this, your gold and pearl stud earrings are much securer.  So the risk of you losing these earrings is greatly reduced.   Especially important if you opt to buy a pretty expensive pair of gold and black pearl earrings.
Of all the styles we mention in this article these ones tend to be the least expensive.  This is because they don't require the use of too much precious metal in their creation.  Plus if you've never worn a pair of gold and pearl earrings before their size means that they won't feel awkward when being worn.
Drop Earrings
This form of earring attaches to your ear by either a post or a small wire that goes through the hole in your earlobe.  These kinds of gold and pearl drop earrings are very ornamental in design.  They can also be a variety of different lengths.  If you have a quite long neck then these kinds of earrings will help to shorten it, yet still, add a touch of elegance to your outfit.
Dangle Earrings
This style has been designed so it flows from the bottom of your earlobe.  These kinds of earrings come in a variety of different lengths.  They normally measure between 1 and 2 centimeters or they brush against your shoulder. Normally you will find that a pair of gold and pearl dangle earrings attach to the ear through use of thin wires.  The wire threads through your earlobe and connects to itself as it has a small hook at the back.
But some of these styles of earrings don't have anything to help secure them in place and are more commonly referred to as the "French hook" design.  So these styles of gold and pearl earrings will simply hang from your earlobe.  However, if you would like to make such styles of say yellow gold and pearl earrings more secure you could attach a small plastic retainer to them.
So you can see finding a pair of beautiful pair of earrings made using gold and pearls for you isn't really difficult, with so many different styles to select from.  But it is important to select a pair that you don't just love but will really go with the outfit you will be wearing.
Of course, the earrings are important but why not make a real statement by teaming them with some other beautiful and elegant pieces of jewelry that combine gold and pearls together.  Nothing would look more stunning than wearing the earrings you've chosen with a matching necklace or pendant and even a bracelet.
But Why Buy A Pair Of Gold And Pearl Earrings?
If you are someone who has sensitive ears then investing in a pair of say white gold and pearl earrings is a very sensible idea.  You will find that the gold won't cause you any irritation as you may find with more inexpensive earrings made using steel, or that are silver-plated.
But you still need to be careful and if you really do have sensitive ears then spending money on a pair made using 24 karat gold is advisable.  This is because your gold and pearl earrings are made using gold in its purest form.  The issue you may find with say 10, 14 and 18 Karat gold is that they may contain some nickel as well.  The same also goes for buying a pair that is made using white gold.
If you are unsure about whether you have sensitive ears or not, there are certain things that will soon tell you if you.  There are certain things that will occur when you wear a pair of say white gold and pearl earrings and you have sensitive ears.
If you have sensitive ears then you may suddenly start to notice your ears start to itch a short time after you have put on your earrings.  If you fail to remove them then you may find that your ears start to hurt and swell.
But you needn't worry about this as the earrings we offer here at Pearls Only are made using the finest quality materials possible.  As well as wonderful pearls we've selected to use the best quality metals available.  Most of the earrings we offer are made from yellow gold and come with a wide variety of different colour pearls.
For any woman, a pair of beautiful earrings including a pair of earrings made from gold and pearls will really add a touch of glamour to the most ordinary of outfits.   If you really want to make a statement then a great pair of uniquely designed gold and black pearl earrings would be your best option.
However, if you feel a pair of gold and pearl earrings is a little too expensive for your wallet, then we have plenty of other styles available.   You can always opt for a pair of rose gold, white gold or silver ones instead.  So why not take a look at the wonderful selection of beautifully crafted gold and pearl earrings that we have to offer at Pearlsonly.com.
(Visited 229 times, 1 visits today)