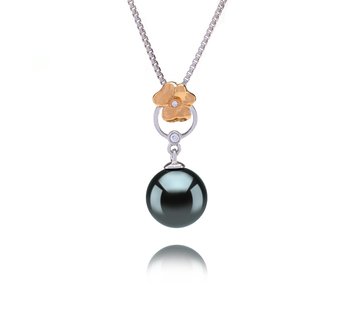 Why do women worship pearls? Is there some secret connection between them? Even though traditionally pearls are associated with the color white, there is something mysterious with the dark, deep sea color of Tahitian pearl pendants.  They simply glorify the process of making a single pearl. Pearls are born naturally beautiful with a deeply embedded glow. The greatest magic of pearls is to shine and thus reflect their beauty on the one who carries them. Their timeless beauty and sensuality are eternal, and always give a glimpse of glamour.  Read more and discover some wonderful designs from our collection of black pearl pendants.
Throughout the history of mankind, women loved pearls and loved to decorate everything with them. Since they were very rare in nature, they were also very expensive. For centuries, only queens and emperors of the great empires, and rare women of privileged status were given the opportunity to use them, which is why the magnificent jewelry was part of the status power. Empress Eugenia, the wife of Napoleon III, was the main trendsetter of Tahitian pearls during her rule. The empresses love and passion for pearls was widely known. She owned a pearl necklace made out of natural Tahiti pearls, that are characteristic of shining in rainbow colors, that are presented on several of her portraits.
According to some beliefs and tales told by pearl collectors, while she was preparing for her wedding in Notre Dame 1853, her attendant was asking her not to wear her famous pearls on her wedding day as it was considered a bad omen. After that marriage, her life took a turn and appeared as one endless tragedy. Maybe it is because of the mystic veil, or their magnificent color spectrum, but Tahitian pearls, particularly worn as simple pendants can be a magnificent accessory to complete your wardrobe.
How is the Tahitian pearls pendant different than other pearls?
Tahitian pearls originate from the warm waters of the South Sea and are cultivated in large black stones. Black Tahitian pearls are dark and large and have an average width of mostly 9-16 mm. They are unique and expensive due to the complicated process of their breeding. The natural black color comes from the varying black shade varieties of Pinctada maxima, a particular type of oysters, which can grow up to 20 cm or more, and produce very large pearls. The volcanic atolls of Tahiti with its blend of sea rich in warm lagoons, create an ideal place for oysters. It is the only place in the world where the Tahitian pearls can be found.
Although traditionally referred to as black, they can be of various colors, from metallic gray to graphite colors with gray, silver, green, blue or violet tones. The Tahitian pearls are, on average slightly smaller than the South Bohemian, but larger than the Akoya Pearls.
The pearl has a crystalline structure and consists, as well as the outer part of the shell, from 80 to 92% of calcium carbonate (aragonite and calcite) and a very small proportion of water. The pearls grow in the form of tiles and they spread in layers that are visible under a micro cut. You can even see layers similar to the circles of the tree in a pearl. Pearls and mother-of-pearl are made of the same materials, but in different proportions, so the pearl is harder and more resistant than the host, or mother. The shine, called the lister, is formed by reflection and breaking of light on the edges of the calcium carbonate crystals and the water molecules that are there. Their color depends on the type of shell, the environment in which it lives and the temperature of the water.
As precious pearls are shaped from what is inserted into the shell, naturally or artificially, and the shell developed a system of layers, creating obstacles on the intrusive particle appears can be considered one of the unsolved mysteries in nature.  The ever changing reflection or rainbow glow is not just aesthetic, it consists of microscopic tiny crystals that are perfectly arranged among each other and allow the light to pass through the pearls axis reflecting it through the fractures. Consequently, the rainbow glow comes as a result of light passing through the perfect alignment of fractures inside the pearl.
Tahitian pearl pendants for every style
Necklaces are an important part of a woman's outfit. They can revive a boring business suit or spice up a charming, simple style for a business dinner. Not to mention a romantic date or a simple outing with friends or family.  If you like gemstones in this color, you will fall in love with black pearl pendants. Versatile and easy to accessorize, Tahitian pearl pendants are easily transitioned from casual to formal outfits. Choose a sterling silver or white gold chain if you have cool undertones and a medium skin tone. Yellow gold black pearl pendants are recommended for all complexions with warm undertones.
This style of jewelry allows the owner to present the beauty of a single pearl and reflect on itself. Tahitian pearl have characteristic darker shades that bring out some mystery, charm and uniqueness. We prepared a choice of perfect Tahitian pearl pendants for you to choose from.
This pearl design has a great level of class and sophistication. It has a roundish shape and its simplicity stands out on the silver necklace , complimenting the shades of the pearl itself. It can be worn with many styles, and would be perfect with a bold bracelet of dark colored, or even contrasting pearls. This color is the perfect example of how a simple pearl can take your entire wardrobe on an entirely new level!
Wearing bold and original jewelry can sometimes be even challenging. This rather different design portrays the wild history of the Tahitian waters and its riches. If you want to reveal the inner adventurer or tomboy, a simple décor around your neck can tell the story of your pirate fantasies as well as your killer and passionate nature. The contemporary design  of this Tahitian pearl pendant can be appealing to all ages, but requires some spunk and sense of pride so it can light up your face with its perfect shine.
We think we can all agree that pearls are evergreen and will never really go out of fashion. For this reason, it is hard for pearl jewelry designers to develop simple, clean and classy designs that follow the rules of contemporary fashion. This little flower pearl pendant is the perfect presentation of a metal and color fusion that follows the rules of combining golden and silver colors in a bold and, at the same time, subtle design.
This design can be well paired with your casual day to day designs, with jeans and tank tops. It reflects the sweet and sensitive nature each girl has hidden within them. It can be a perfect choice if you want a little reminder of the beauty of nature. Since it goes great with different styles, and particularly necklines, you can easily offer it as a gift without thinking twice.
This design has an interesting spiral that protects the single pearl. Such an interesting pendant design can be adapted to your personal style. It can maybe even become a well known signature of your wardrobe. Plus, this Tahitian pearl pendant can go from high end elegant, simple accessories on a long silver necklace, to more casual and closer to your neckline with shorter sterling silver necklaces. Moreover, it can be paired even with satin laces with a simple pin, This will make your pearl appear as a choker for some special occasions.
All in all, these were our top black pearl pendant selections.  You can always visit more designs and pick your favorite Tahitian pearl pendant from our collection of pearl pendants. They are all delicate and refined in their own way. Wear them with an open heart and they will bring you the a magical joy and sparkle in your eyes.
(Visited 1,639 times, 1 visits today)