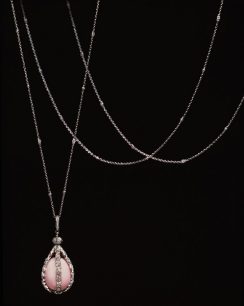 Pearls come in many shapes, sizes, and colors, but pink pearls are some of the most exquisite organic gems on the jewelry market because they are impressively delicate. Pieces that include pink pearls always stand out because they are truly remarkable. Let us tell you a few things about these types of pearls so that you can understand just how special they truly are.
Types of Pink Pearls
The vast majority of cultured and natural pearls are white and this is, in fact, the most sought after pearl color on the jewelry market. White pearls are the standard, but pink pearls are by far the most delicate pearl variety out there.
Natural Pink Pearls
Natural pink pearls are in fact quite rare, as very few types of pearls come in this color. Here are the two main types of natural pink pearls.
Pink Freshwater Pearls
Almost all of the natural pink pearls on the jewelry market are freshwater pearls. They come in a diverse array of shades of pink, as well as an impressive variety of shapes, such as oval, round, or baroque. Freshwater baroque pearls themselves include a multitude of shapes, including coin pearls, twin pearls, stick pearls, egg pearls, rice pearls, teardrop pearls, and Keshi pearls.
Pink freshwater pearls come in small to mid-ranged sizes, which makes them quite accessible in price. Pink pearls are therefore an affordable luxury that any woman should take because their delicate nature is truly unpaired. The color can highlight the most feminine traits of the women wearing them contributing to a very gentle and elegant look.
Pink Akoya Pearls
A very small part of pink pearls are Akoya pearls. While pink freshwater pearls come in a wide variety of shades, pink Akoya pearls are actually white with pink overtones. The result is an extremely delicate type of pearl which can complement any type of outfit.
Artificially Colored Pink Pearls
Freshwater pearls are the most common type of pearl used for artificial coloring because they are the most affordable ones on the jewelry market. Both white and pink freshwater pearls can be artificially colored to get intense shades that do not occur naturally.
Artificial Pink Pearls
Artificial pearls come at extremely accessible prices, which makes them the affordable alternative to natural pearls. They are perfectly suited for artificial coloring and they can be used to create a broad pallet of pink pearls.
Types of Pink Pearl Jewelry
Pink pearl jewelry is extremely feminine and delicate. Some of the most elegant pieces available on the jewelry market include pink pearls because they can complement women's features in a truly unique way. Here are some of the most appreciated types of pink pearl jewelry available to customers.
Pink Pearl Earrings
Round pink pearl earrings are some of the most accessible jewelry pieces available on the market. They can be paired with virtually any type of outfit and the results are always remarkable. Baroque pink pearl earrings are slightly more adventurous pieces and they are ideally suited for women who want to flaunt their exquisite taste in fashion.
Pink pearl bracelets can add a touch of elegance to both casual and formal outfits. Baroque pink pearl bracelets are bold pieces that can make any woman stand out. These may feature similarly shaped baroque pearls or an assortment of very diverse shapes, thus leading to extravagant pieces that are guaranteed to capture anyone's attention. Statement pink pearl bracelets may include either extra-large pearls or an impressive amount of pearl that are styled to extremely elaborate pieces.
Pink Pearl Rings
Pink pearl rings are everyday accessories that any woman would love to wear. Single-pearl pieces are elegant and delicate and they are very easy to style into virtually any type of outfit. Baroque pink pearl rings are simply impossible to ignore because they feature some of the most impressive shapes of pearls on the jewelry market. Egg pearls or potato pearls can be used for gorgeous statement pieces. Coin pearls can be paired with a metal lining to create very imaginative rings, which are suited to virtually any type of occasion.
Pink Pearl Necklaces
Pink pearl necklaces are extremely popular because they can be paired with a wide variety of outfits. Such pieces can add an elegant touch to business or even casual outfits because of the exquisite pallet of pink shades. The ideal match for these luxurious necklaces are formal evening outfits. They can be paired with evening gowns, as well as formal suits and cocktail dresses.
Famous Pink Pearls
While all pink pearls are exquisitely delicate, there were some along the years that have captured the attention of jewelry enthusiasts because of their outstanding characteristics. Here are only some of the most famous pink pearls in history:
· The Einstein Pearl
This American river pearl is owned by the Latendresse family and it is the largest rosebud pearl ever found. Its value exceeds $50,000 because it is absolutely remarkable. The name of the pearl was given by John Landeresse's daughters.
Value Factors: 63.51 carats / 31.4 mm x 22.9 mm x 15.89 mm
John's Prize
This perfectly round pearl was found in the Black River of Arkansas in 1966. Its main color is white and it has creamy pink overtones. It is also owned by the Latendresse family.
Value Factors: 17.4 mm
· The Queen Pearl
The Queen Pearl was found by a diver in New Jersey and then sold to the famous Charles Tiffany for $1,500. This remarkable pearl has a white milky color with delicate pink overtones.
Value Factors: 13 carats
· The Snake-Topped Stickpin
This is one of the most famous baroque pearl pieces. This extravagant stickpin dates back to the 19th century. According to jewelry specialists, the pearl in this piece could be none other than the Queen Pearl.
· The Abernethy Pearl
This lovely pearl was found by diver William Abernethy in the River Tay in 1967. Is impressive characteristics have made the Abernethy Pearl one of the most appreciated organic gems on the market. It is also known as "Little Willie".
Value Factors: 44 grains / 12.5 mm
We hope our article has given you an idea of just how impressive pink pearls can be. Explore the jewelry market to find astonishing pieces and enrich your jewelry collection with an exquisite pink pearl piece.
(Visited 787 times, 1 visits today)