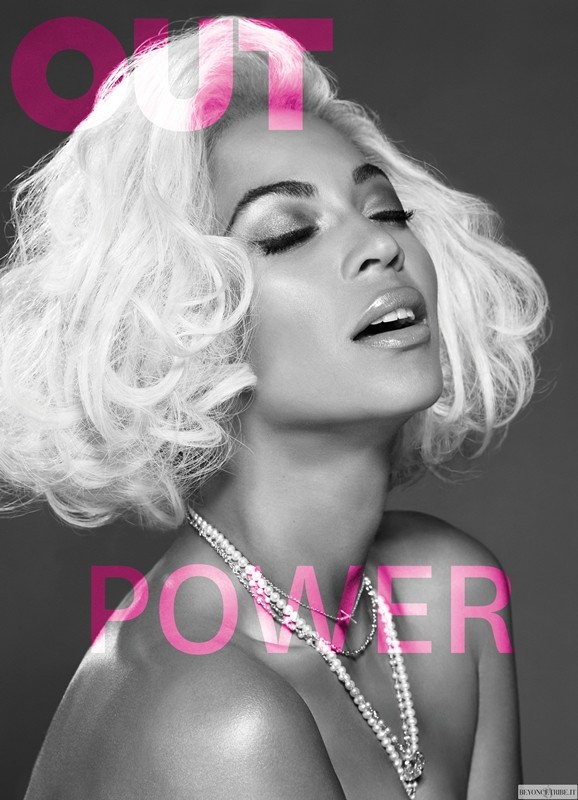 Beyoncé looked amazing as always as she adorned the cover of OUT magazines, May 2014 "Power Issue". The diva looked stunning while showing off a cropped, curly platinum blonde wig and beautiful pearls.
The sensual singer, who released her fifth self-titled studio album in December told OUT about her feelings on feminism, women, and sexuality.
Read below:
"There is unbelievable power in ownership, and women should own their sexuality. There is a double standard when it comes to sexuality that still persists. Men are free and women are not. That is crazy. The old lessons of submissiveness and fragility made us victims. Women are so much more than that. You can be a businesswoman, a mother, an artist, and a feminist—whatever you want to be—and still be a sexual being. It's not mutually exclusive."
Beyoncé continued on, saying:
"While I am definitely conscious of all the different types of people who listen to my music, I really set out to make the most personal, honest, and best album I could make…I needed to free myself from the pressures and expectations of what I thought I should say or be, and just speak from the heart. Being that I am a woman in a male-dominated society, the feminist mentality rang true to me and became a way to personalize that struggle."
Interesting…
This magazine will be on newsstands so be sure to check it out to read more of the interview. What do you think of Beyoncé's message? Do you agree?
***BONUS: For those who are interested in who make this perfect look, it was photographed by Santiago & Mauricio and styled by Lysa Cooper.
What do you think of the singer's cover? Do you love it?
(Visited 279 times, 1 visits today)