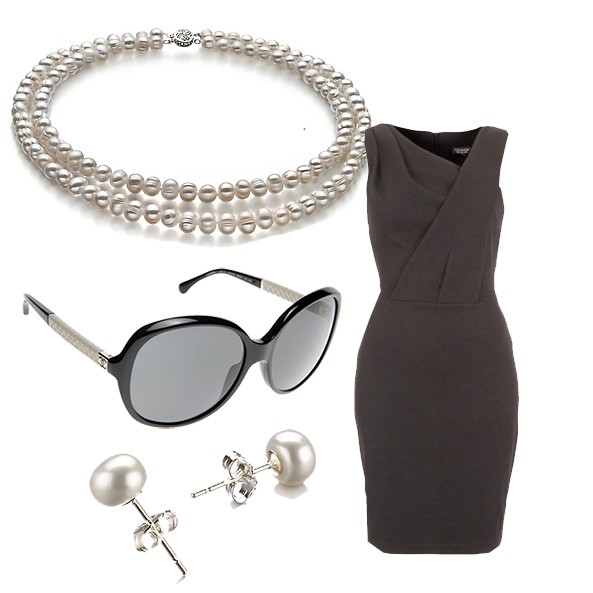 Ever wondered how to wear pearls? Pearls have been enjoyed by many people over centuries, often know as being the 'Queen of the Gems' pearls seem to be the stone of preference when women would like to make a statement, look smart and dazzle with class. Going back in time, pearls were only worn and cherished by the rich and powerful and were objects of desire for everyone else. A pearl necklace or a pair of pearl earrings can be worn for all those occasions where you need a little bit of formal glamour such as weddings, job interviews, business meetings and many events in between.
Pearls have being an iconic jewellery statement for many years with Audrey Hepburn sporting probably the most famous and iconic pearl necklace in the world.  Jaqueline Kennedy and Elizabeth Taylor also loved to sport their triple chain pearl necklaces on many public appearances. When it comes to wearing pearls, they are not just an item of jewellery which you can just throw on; your look must be tailored around them. When a woman wears pearls she can enjoy her own little piece of the oceans beauty. There are a number of beautiful ways how to wear pearls, and in this post we are going to show you some iconic looks and how you can achieve these.
Designer Chic inspired by Audrey Hepburn
Feel like a Hollywood starlet! This timeless look has continued to inspire followers of fashion for years and is probably the most favoured 'how to wear pearls' look of all time, so let's see how we can re-create it. Firstly, there are no cutting corners with this look and to wear your pearls with as much grace and elegance as Audrey Hepburn did, you must respect their meaning. So, firstly you need a black bodycon dress or midi dress that flatters your figure. Black is the crucial colour to really draw attention to those pearls. Wear your hair in a high bun and keep your makeup natural and simple looking with a cat's eye flick.
FINISH THE LOOK with your double strand pearl necklace, a pair of white pearl earrings, a statement pair of black sunglasses and some black heels. If you really want to modernise the look, give it an edge by wearing a cropped leather jacket.
Recommended products:
Double strand fresh water pearl necklace.
 Be a Pastel Princess
This season, pastels are still in with catwalk looks still opting for the softly delicious colour pallets. This look also goes a dream with pearls too and is absolutely perfect for all those girly girls. To get the perfect pastel look with your pearls couldn't be easier. Start by choosing a gorgeous pastel leather jacket such as pink or lilac. Pair it with a plain white t-shirt and some white trousers. When it comes to your pearls choose a beautiful lilac necklace to really feel like a goddess. This light look is absolutely perfect for the coming summer months and depending on what pastel colours you choose, you can pick the perfect coloured pear accessories, don't be afraid to experiment.
FINISH THE LOOK by keeping your hair loosely flowing and your makeup natural looking because this will highlight your gorgeous pearls and will complement the soft look of the pastels. White nail varnish also looks fabulous and makes a statement.
Recommended products
The Vintage Vixen
Pearls also have a huge role in the vintage fashion scene being the accessory of choice for many classic vintage looks. There are in fact, a number of ways to approach the vintage look but we are loving the classic! To be a vintage vixen with your pearls start by choosing a cute cardigan, ideally a polka dot one. A plain shirt with a red waist belt and if you want to go all the way grab a gorgeous tulle skirt. Compliment your inner vintage vixen by wearing a stunning pear set including a necklace, bracelet and earrings.
FINISH THE LOOK by wearing your hair in victory rolls or pinning it up with a headscarf or headband as the perfect accessory. You can also add to your look by layering on your pearls by wearing multiple necklaces in multiple lengths.
Recommended Products:
Because of the way pearls reflect light, and their subtly beautiful iridescent glow provides a very soft and gentle look. With the three looks described above on how to wear your pearls, you will notice that we have always kept the makeup advice pretty natural. This is because pearls simply look better against a more blank canvas so really shine. Also, pearls are linked with purity and have often being worn as a badge of honour, respectability and authority and a symbol of female empowerment.
Hollywood stars such as Marilyn Monroe and Elizabeth Taylor seemed to enjoy wearing pearls as an extension of their fierce femininity which showed the world pearls where not just a look but a way of life.
Pearls really are a girl's best friend and their versatility and adaptability is second to none. Pearls are becoming more popular than diamonds and it's not difficult to see why. Pearls simply ooze class, style and sophistication with many celebrities choosing a single strand pearl necklace when hitting the red carpet and the late Princess Diana was rarely without her triple strand pearl necklace. Each pearl is totally unique and comes from a living organism therefore each pearl has been subject to individual conditions.
How do you wear your pearls? If you are passionate about pearls we'd love to hear from you and why you love them as much as we do.
(Visited 294 times, 1 visits today)