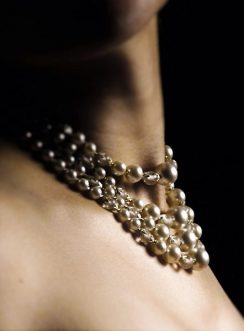 If you are looking to create a bold look, then a pearl cluster necklace is the ideal accessory for you. This refined piece of jewelry will add a unique type of elegance to your outfit and it will make you virtually unforgettable. Let us tell you about the main types of cluster pearl necklaces so that you can find the best one for you.
1. The Pearl Cluster Bib Necklace
The pearl cluster bib necklace is an item that any woman should have in her jewelry box because it is a key accessory that can enhance any outfit. You will look gorgeous with this glamorous piece. It is perfectly suited for any formal outfit, from business attire and all the way to evening gowns. Dare to impress with this dazzling necklace!
You can complete your evening look with miniature pearl cluster earrings or a pearl cluster bracelet and you will be simply unstoppable. Since the pearls are going to be the centerpiece of your entire outfit, remember to choose a dress to fit the pears and not the other way around. We guarantee you will love the results.
2. The Double Strand Pearl Necklace
The double stand pearl cluster necklace is the most elegant type of statement jewelry you can find on the market. The unpaired elegance of the pearls will provide you with a poised and professional look. In fact, this type of pearl necklace is perfectly suited for daytime business events because it is the ideal accessory for formal attire.
It is also a delicate piece that you can pair with cocktail dresses for that perfect evening look. You can wear it with scoop neckline dresses, as well as V-lines and bateau gowns. The final look will be simply divine!
3. The Three Strand Pearl Necklace
Three strand pearl cluster necklaces take elegance to an entirely new level. A statement piece by definition, this necklace will make you look absolutely stunning. It is the perfect accessory for strapless dresses, off-the-shoulder evening gowns, as well as V-line cocktail dresses because it will make the entire outfit shine.
White three strand pearl cluster necklaces are ideally suited for black, blue, and red dresses because they are a symbol of glamor and feminine beauty. If you are looking for a necklace for a white, crème, or pink dress, then we suggest a black three strand pearl cluster necklace because this will add a refined sharpness to your outfit.
4. The Multi-Strand Pearl Necklace
If three strand necklaces are visible enough to be statement pieces, then multi-strand pearl cluster necklaces are the ultimate level of sophistication. Be prepared to have all eyes on you if you opt for such a glamorous accessory because you are bound to be the center of attention.
These necklaces are ideally paired with strapless gowns and sweetheart neckline dresses to create a dramatic look that will be virtually unforgettable. As for the three-strand necklaces, white, pink, or lavender pearls are your best possible choice if you are wearing a dark-colored dress.
Dresses in light-toned colors are best paired with black or gray pearl cluster necklace. The striking contrast will add a unique boldness to your look. Black shoes will complete the look making you look absolutely breathtaking.
5. The Extra-Long Pearl Necklace
For those who like to experiment with their jewelry, we recommend the extra-long pearl necklace. You can use this simple accessory to create a dazzling pearl cluster necklace that is perfectly in line with your style.
You can control the final length of your necklace and with a few twists and turns, you can change the entire piece to best suit your outfit. You will look stunning with such a bold accessory and you can even express your style by adding the finishing touches.
6. The Charm Cluster Necklace
This type of pearl cluster necklace is aimed for delicate women who want to want to express their personal type of elegance. The charm cluster necklace is by far the dreamiest type of statement piece because it boasts with energy and a very special type of refinement.
It can turn even the dullest of outfits into a picture-perfect look because of its unpaired playfulness. This makes it an excellent piece for both daytime and evening events because its energy will be transcended to the entire look.
7. The Graduated Pearl Necklace
There is nothing more elegant than the graduated pearl cluster necklace. It is a key accessory precisely because of its delicate nature. This timeless piece will make you look and feel like a princess. Pair it with a strapless or off-the-shoulder gown and you will be unstoppable.
The white graduated pearl cluster necklace is a symbol of elegance in itself. It represents feminine grace and it is perfectly suited for young and mature women alike. So wear your necklace with pride and embrace the glamorous nature of this stunning piece.
8. The Multi-Strand Freshwater Pearl Cluster Necklace
If you are looking to impress, then the multi-strand freshwater pearl cluster necklace is an excellent choice for you. The transparent lining makes the pearls appear as if they are floating around your neck. This necklace will make you look otherworldly.
It is a statement piece that is bound to get everyone's attention, so make sure you create the entire outfit centered on it. We recommend plain colored attire and footwear so that the pearls can remain the centerpiece. But don't be afraid to experiment with colors. Pair a white or pink pearl cluster necklace with a dazzling black dress and red shoes for an electric evening look.
We hope that our list of the most beautiful types of pearl cluster necklaces has proved to be useful to you and that you will consider taking your outfits to an entirely new level of elegance. Dare to be unforgettable with these stunning pieces.
Image Sources: 1, 2, 3, 4, 5, 6, 7, 8, 9, 10.
(Visited 525 times, 1 visits today)