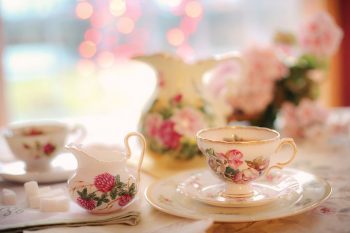 Who doesn't love a tea party? But have you ever hosted one? Wondering how to make it great? This post will show you how to host a high tea party at home or at a certain venue, activities to do at a tea party, and of course…we will talk about the high tea party dress code. There are a lot of things to take into account if you want to have a memorable day, especially if you want to make an amazing impression. They are not hard to accomplish, so grab a pen, a warm cup of tea, your agenda and start making notes. Find out how easy you can turn yourself into a party planner.
Slip into festivities with the best pretext to warm yourselves: a high tea party! Because we want you and your friends to have a fantastic tea party, we gathered wonderful tea party ideas and decorations that will definitely impress you. Whether you are hosting a tea party on a budget or you want to splurge on the biggest event you have ever organized, you will find great starting points and ideas.
WHAT IS A HIGH TEA PARTY AND WHEN SHOULD IT START
According to tradition, a tea party is held anytime in the afternoon, so you are free to set the hour. There is, however, a distinction between the afternoon tea and high tea. The main difference is that the high tea party should offer more consistent food and should start in the early evening. But our post will treat the event as a general tea party, so you are able to pick the best starting time and the kind of food you want to serve. As a result, organizing your own afternoon tea party means you are able to stick to your own budget and you can pick the food you fancy most.
The tea party ideas that we are going to share with you are suitable for birthdays, anniversaries, bridal shower, baby shower or a gender baby reveal party or any other occasions that request an elegant, yet casual celebration.
HOW TO HOST A HIGH TEA PARTY AT HOME
Hosting a tea party for a large group involves a bit of preparation. There are certain decisions you have to make before you invite your guests.
1. First of all, you should decide where are you going to host the tea party: living room, lobby, garden? Space will dictate the setting and the decorations. Moreover, a themed tea party will keep your guest amused the entire time. It can be a Victorian or Alice in the Wonderland-inspired themed tea party. If the weather is wonderful, a garden party is a magnificent idea. Your backyard will look beautiful with all the floral decorations.
2. Next, is it a tea party bridal shower or a kids tea party as well? Decide how many guests you want to invite and make a list. Make sure to let them know at least 2-3 weeks in advance.
3. Tea party invitations are a great idea! You can make them yourself and write them personally. In this case, you can use your own printer, or you can pick a beautiful design from invitation suppliers. They can personalize tea party bridal shower invitations, tea party baby shower invitations or any kind of invitation card that your heart desires. Make sure to include the starting and the ending hours, plus the dress code if you want your guests to dress up. Plus, add the theme of the party (if there is one). Here are some gorgeous examples of high tea party invitations.
4.  Moving on, if you don't want to spend a whole day cooking, make sure to pick a good catering firm. Some of us don't have enough talent to create dazzling sweets as the ones below, so ordering them is absolutely in order. This time-saving option will allow you to focus on the table setting.
5. Speaking of table setting, find some beautiful table center pieces. Make sure to pick your best china tea set and silver! You don't have enough matching china for all your guests? No worries! You can always rent from a specialized event planner. Here are some splendid options!
For your tea station, pick up some roses or daisies and put them in a teapot or an antique bowl. You will love the effect! Moreover, roses and pearls go extremely well together for your table décor. Porcelain cups, a lace tablecloth, pearls…truly sophisticated!
6. You should also take into account decorations. Tea cups-inspired decorations, pearls, lace, handmade paper flowers create an exquisite décor. You can be as creative as you want and you get to decide the predominant fabric or theme.
7. Active, energizing and fun tea party games are always a good idea to keep your guests entertained. Make a list, print it in multiple copies so you can distribute it among them.
WHAT KIND OF TEA SHOULD I SERVE?
There is no certain rule here because there's no such thing as too much tea. The only recommendation would be to have enough tea to serve all your tastes and moods. You should satiate your invites souls with flavors that match their personality too. Generally, Earl Grey, English Breakfast, Vanilla, and Green tea are the first choices for tea drinkers.
The cold weather might ask for other flavors like Honey Lemon, Cinnamon, Spice Chai Latte, Caramel Apple. Boost up your spirit with some Matcha Green tea, Yerba Mate, Organic Rooibos or Ginseng, Guarana Seed. Plus, a shot of rum or whiskey never hurts!
For your cold tea drinkers make sure to prepare some original ice cubes. Add some edible flowers, small pieces of fruit or mint leaves in the water before freezing it. Here are more creative ideas.
WHAT FOOD TO SERVE AT A TEA PARTY?
The typical tea party food includes all kinds of finger food, sweet or savory. As a result, cupcakes, macaroons, scones, pastry, cake, croissants, cookies, fruit tarts, cucumber sandwiches or quiche are totally appropriate tea party dishes. Make sure to place them on 3-tiered servers and large plates. This will add a touch of refinement to your high tea party.
ACTIVITIES TO DO AT A TEA PARTY
The most common activities you can do are Teacup Treasure Hunt, Tea Leaf Pictionary, playing cards. In order to spice up the event, you can create quick crafts, blend different tea herbs and create your own signature tea cocktails (and yes, you can add alcohol 😊).
During a tea party bridal shower, you can give your lovely bridesmaids their gifts. Plus, a great high tea party idea is to invite a specialist to show you how to perfectly brew a tea.
A baby shower tea party is the perfect occasion to invite moms with kids and organize some fun activities for them. Ask them to draw a teapot with their eyes closed, plan a treasure hunt, and bake together cookies for tea.
Here you have some tea party entertainment ideas who will guarantee enjoyable moments for adults and kids as well. If you want to vary them, here is another great article with activities to do at a tea party.
HOW TO YOU DRESS FOR A TEA PARTY
Last, but not least, you have to dress for the tea party. A high tea party dress code is entirely appropriate if you want to set an elegant tone for this kind of event. Therefore, ladies can wear floaty, yet comfortable dresses, silk blouses, cashmere sweater or cardigans. Men should wear Polo shirts with neat trousers, or even a casual suit. If you have a certain tea party theme, then ask your guests to wear costumes or specific items that symbolize the theme.
In terms of accessories, pearls are entirely appropriate! We even encourage you, as this is a fantastic occasion to wear them. Here you can find a classy white pearl necklace that will bring you many compliments. Brooches or bows are also indicated.  Since this is not a very formal meeting, men can wear just an elegant watch.
In the end, if your budget allows you, think of some nice themed favors to offer your guests in honor of the occasion. A personalized tea bag, a cute tea infuser or tea scented candles are wonderful options. All in all, we hope this article will determine you to organize your tea party effortlessly. Since we all know that simple things bring the greatest joy, keep it neat and classy. Invite your dear family and friends and spent few, yet memorable hours together!
(Visited 1,792 times, 1 visits today)