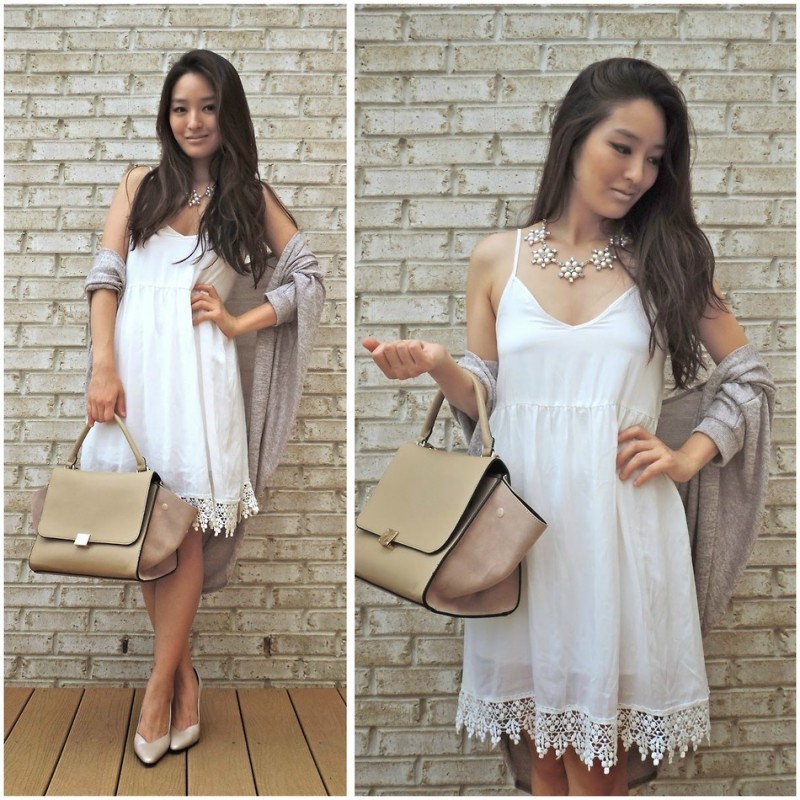 This Fashionista was chosen as our "Fashionista of the Day in Pearls" because she kept her pearls lady-like and dainty by combining them with an adorable little white dress.
Kimberly, fashion blogger of Sensible Stylista, showed off her style with a little white dress and soft cardigan by DEB, a stylish bag by Chic Wish, a pair of Proxy heels and an gorgeous Armed & Readi pearl necklace.
Kimberly shared her inspiration:
"For today's post, I've featured a super comfy yet cute LWD (little white dress) courtesy of Deb. This girly number is totes adorable – don't you just love the crochet trim?
"Any who, I didn't want to bare my shoulders completely so I threw on an oversized cardigan for cover.
I accessorized with neutral pieces to complement my look's overall color scheme – I threw on a stunning pearl statement necklace (from Armed & Readi) and carried a nude Celine-inspired bag (from Chicwish). "
We think this Fashionista looks cute and we are sure that you will love her look as well.
What do you think? Does she look chic?
Visit Kimberly at her website: sensiblestylista.blogspot.com
Photo Credit: sensiblestylista.blogspot.com
(Visited 147 times, 1 visits today)