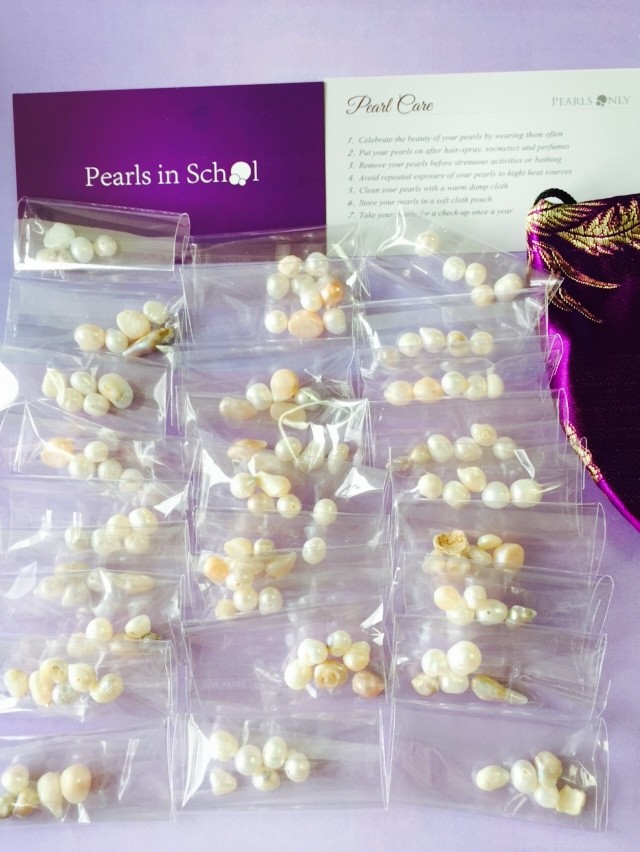 Houston, Jul. 27, 2015/Press Release/ — PearlsOnly has created and launched a free Pearls Education program for schools and teachers.
Teachers who sign up for the program will be able to download a lesson plan for Junior, Middle and High for US, UK and Australian curriculums.
Part of the program, PearlsOnly will send, free of charge, a study kit – the kit will include five sample pearls for each student to study, examine and keep.
The lessons are created with an aim to educate children about the amazing process of pearl culturing. These lesson plans are designed for various age groups and grades in mind, from elementary to junior high school kids.
Natural pearls are formed when a threatening irritant like a parasite slips into the shell, and mollusk forms a pearl sac to cover the irritant, but pearl culturing involves implanting a mantle tissue in the shell. Keshi, Akoya, Hanadama, or Tahitian Pearls are some popular types of cultured pearls. PearlsOnly wants to introduce children to the fascinating world of pearls. Learning about the process of pearl creation or farming will encourage them to explore more about "Periculture".
PearlsOnly will provide complete lesson plans with supporting material to make it easy for teachers to execute. The lessons are created by experts and require little or no knowledge on part of teachers. However, teachers or students can request further information if they want.
"By offering free lesson plans and pearls, we are providing teachers with a way to introduce their students with the fascinating process of pearls creation," said Paul Lepa, CEO of PearlsOnly, "we believe that the lessons will pique kids' interest to explore not only pearls but the fascinating sealife. We hope children will enjoy learning about pearls, and teachers will appreciate the comprehensive lesson plan."
Teachers who are interested in getting the lesson plan and pearls kit should visit:
About PearlsOnly:
Founded in 2003, PearlsOnly has been offering top notch pearls and jewelry for more than a decade. Known as the market leader in Pearls Industry, it has launched in the US, rapidly expanding into operational centers in Europe and Australia, along with purchasing centers in Japan and China. What distinguishes them from a typical vendor is that they purchase directly from freshwater farmers and pearl processors in China, which ensures low prices and some of the most beautiful and rare pearls in the world. From pearls necklaces to earrings, and pendants to rings, their online store has a huge assortment of pearls jewelry.
(Visited 579 times, 1 visits today)